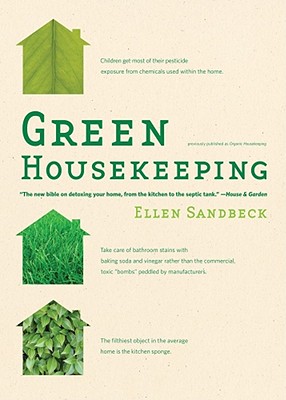 Green Housekeeping (Paperback)
Scribner, 9781416544555, 448pp.
Publication Date: January 8, 2008
* Individual store prices may vary.
Description
A must-have book for the twenty-first-century home..
About the Author
Ellen Sandbeck is an organic landscaper, worm wrangler, writer, and graphic artist who lives with (and experiments on) her husband and an assortment of younger creatures -- which includes two mostly grown children, a couple of dogs, a small flock of laying hens, and many thousands of composting worms -- in Duluth, Minnesota. She is the author of Slug Bread & Beheaded Thistles and Eat More Dirt.
Praise For Green Housekeeping…
"This book has everything! From clearing your clutter to protecting the health and well-being of your family. Further, everyone wants to make a difference, and the ideas in Organic Housekeeping make a difference for our fragile, endangered planet."
-- Cecile Andrews, author of The Circle of Simplicity

"For anything and everything you want to know about how to keep your house truly clean, this guide likely has the answer. Keep a copy stashed where you store your ecofriendly cleaning supplies so it'll always be handy with the simple solution for any cleaning dilemma."
-- Danny Seo, author of Simply Green Parties and Simply Green Giving

"Ellen Sandbeck once and for all provides a practical, commonsense guide to cleaning up our messes -- the clutter and disorganization that keeps us from thriving, and more important the toxins in our homes that negatively impact our health and well-being. In a world inundated with toxins on the one hand, and an unreasonable desire for sterility on the other, Sandbeck gives us refreshing insight into how to live in balance, challenging us to recognize that the oversterilization of our environment has contributed to the pandemic of allergic and autoimmune disorders. She also guides us on how to improve our homes and our health without constant exposure to household chemicals."
-- Dr. Mark Hyman, coauthor of Ultraprevention and author of UltraMetabolism

"Ellen Sandbeck's Organic Housekeeping is a lighthearted take on taming the house monster, written by a kindred spirit who would rather be outdoors."
-- Barbara Damrosch, author of The Garden Primer

"As simple as it gets! Sandbeck presents some surprising solutions to age-old cleaning challenges, complete with the 'whys' as well as the 'how-tos.'"
-- Donna Smallin, author of Cleaning Plain & Simple

"Organic Housekeeping is uncommon good sense for protecting our health and the planet. It's sustainability with style. Read this book and save yourself and your pocketbook too. All hail the Nontoxic Avenger!!"
-- John de Graaf, coauthor of Affluenza: The All-Consuming Epidemic

"Ellen Sandbeck has provided the public with a fabulous catalog of useful information that will help all of us protect our health and our environment."
-- Mary Gant, Program Analyst, National Institute of Environmental Health Sciences, National Institutes of Health

"Throughout this book, Ellen Sandbeck's deep concern for the health of our Earth and its citizens is obvious. She demonstrates how to help and protect ourselves by compiling an amazing number of ways we can live our life in a healthier, more organized and less expensive manner. It's a book you can read straight through because it is so entertaining and helpful. I give it my eco-green thumbs up!!"
-- Tessa Hill, Chair, Children's Health Environmental Coalition and President, Kids for Saving Earth

"This wonderful book is about far more than how to remove cooked-on grime from skillets without poisoning yourself in the process (although it does that, too). It's about tending a home in the way one tends a garden. The result is harmony, serenity, and less work. Really. I took a long time to read Organic Housekeeping because I kept leaping up mid-chapter to go off and execute another brilliant suggestion. Thank you, Ellen Sandbeck."

-- Sandra Steingraber, Ph.D., author of Living Downstream: An Ecologist Looks at Cancer and the Environment and Having Faith: An Ecologist's Journey to Motherhood

"Organic Housekeeping is authoritative, clear, and very useful. Readers of the book will be better equipped to protect themselves from the deluge of synthetic chemicals which surround us."

-- Herbert L Needleman M.D., coauthor of Raising Healthy Children in a Toxic World
or
Not Currently Available for Direct Purchase