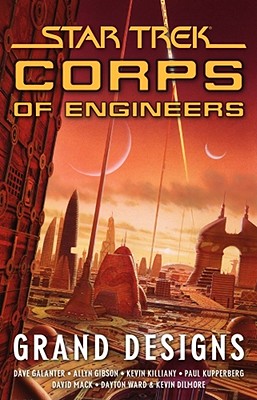 Star Trek
Corps of Engineers: Grand Designs (Star Trek: Starfleet Corps of Engineers)
Paperback

* Individual store prices may vary.
Other Editions of This Title:
Paperback (11/21/2006)
Description
The thrilling Star Trek short story collection featuring Starfleet's Corps of Engineers!

Corps of Engineers

These are the voyages of the U.S.S. da Vinci. Their mission: to solve the problems of the galaxy, one disaster at a time. Starfleet veteran Captain David Gold, along with his crack Starfleet Corps of Engineers team lead by former Starship Enterprise ™ engineer Commander Sonya Gomez, travel throughout the Federation and beyond to fix the unfixable, repair the irreparable, and solve the unsolvable.

Whether it's an artificial planetary ring that was damaged during the Dominion War, an out-of-control generation ship, a weapons inspection gone horribly wrong, shutting down a crashed probe, solving a centuries-old medical mystery, or clearing a sargasso sea of derelict ships, the S.C.E. is on the case!

But the problems they face aren't just technical; Tev must confront the demons of his past, Lense must confront the demons of her present, Gold faces a crisis of leadership on his own ship, and Gomez must lead an away team into the middle of a brutal ground war. Plus the da Vinci crew must find a way to work with their Klingon counterparts in a deadly rescue mission.
Pocket Books/Star Trek, 9781416544890, 640pp.
Publication Date: July 3, 2007
About the Author
Keith R.A. DeCandido was born and raised in New York City to a family of librarians. He has written over two dozen novels, as well as short stories, nonfiction, eBooks, and comic books, most of them in various media universes, among them Star Trek, World of Warcraft, Starcraft, Marvel Comics, Buffy the Vampire Slayer, Serenity, Resident Evil, Gene Roddenberry's Andromeda, Farscape, Xena, and Doctor Who. His original novel Dragon Precinct was published in 2004, and he's also edited several anthologies, among them the award-nominated Imaginings and two Star Trek anthologies. Keith is also a musician, having played percussion for the bands Don't Quit Your Day Job Players, Boogie Knights, and Randy Bandits, as well as several solo acts. In what he laughingly calls his spare time, Keith follows the New York Yankees and practices kenshikai karate. He still lives in New York City with his girlfriend and two insane cats.

Allyn Gibson is the writer for Diamond Comic Distributors' monthly PREVIEWS catalog and the author of numerous Star Trek tie-in novels.

KEVIN KILLIANY has been the husband of Valerie for nearly a third of a century and the father of Alethea, Anson, and Daya for various shorter periods of time. In addition to his Star Trek fiction (SCE Orphans and Honor as well as three short stories in Strange New Worlds), Kevin has written for Doctor Who and several game universes, most notably BattleTech, Shadowrun, and Mechwarrior. His two science fiction novels, Wolf Hunters and To Ride the Chimera were published by Roc. When not writing Kevin has been an exceptional children's teacher, drill rig operator, high-risk intervention counselor, warehouse grunt, ESL teacher, photographer, mental health case manager, college instructor, and paperboy. Currently Kevin works in family preservation services, is an associate pastor of the Soul Saving Station, and manages to keep writing short stories while working on his first mystery novel. Kevin and Valerie live in Wilmington, North Carolina.

David Mack is the award-winning and New York Times bestselling author of more than thirty novels of science fiction, fantasy, and adventure, including the Star Trek Destiny and Cold Equations trilogies. His writing credits span several media, including television (for episodes of Star Trek: Deep Space Nine), film, short fiction, and comic books. He resides in New York City.

Dave Galanter has authored (or coauthored with collaborator Greg Brodeur) various Star Trek projects, including Voyager: Battle Lines, the Next Generation duology Maximum Warp, The Original Series novels Crisis of Consciousness and Troublesome Minds, and numerous works of short Star Trek fiction.

Paul Kupperberg is the writer of hundreds of books, stories, comic books, and newspaper comic strips. He has written for many comic book characters including Superman, Superboy, Supergirl, Vigilante, Power Girl, Aquaman, Green Lantern, Doom Patrol, Captain America, Conan, Captain Action, Archie, The Simpsons, Johnny Bravo, Scooby Doo, and dozens of others. In former lives, Paul has also been an editor for DC Comics, executive editor of Weekly World News and senior editor of WWE Kids Magazine. He lives in Connecticut with his son, Max.
or
Not Currently Available for Direct Purchase