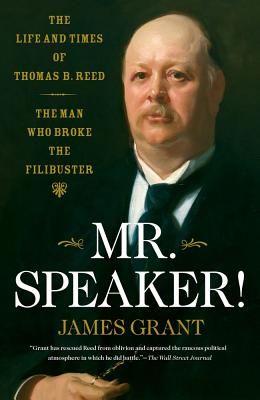 Mr. Speaker!: The Life and Times of Thomas B. Reed, the Man Who Broke the Filibuster (Paperback)
The Life and Times of Thomas B. Reed, the Man Who Broke the Filibuster
Simon & Schuster, 9781416544944, 426pp.
Publication Date: May 15, 2012
* Individual store prices may vary.
or
Not Currently Available for Direct Purchase
Description
"The most influential speaker of the House most people have never heard of...Reed makes for good copy...Grant has managed to rescue Reed from oblivion and to capture the raucous political atmosphere in which Reed did battle" (Jonathan Karl, The Wall Street Journal). James Grant's enthralling biography of Thomas B. Reed, Speaker of the House during one of the most turbulent times in American history--the decades before the ascension of reformer President Theodore Roosevelt--brings to life one of the brightest, wittiest, and most consequential political stars in our history, a man who changed forever the way the House of Representatives does its business by reforming the misuse of the filibuster.
About the Author
James Grant founded Grant's Interest Rate Observer in 1983. He is the author of five books on finance and financial history as well as of the biography John Adams: Party of One. He has appeared on 60 Minutes, Jim Lehrer's News Hour, and CBS Evening News.
Praise For Mr. Speaker!: The Life and Times of Thomas B. Reed, the Man Who Broke the Filibuster…
"The most influential speaker of the House most people have never heard of . . . Reed makes for good copy . . . Grant has managed to rescue Reed from oblivion and to capture the raucous political atmosphere in which Reed did battle."
--The Wall Street Journal



"Timely and entertaining. . . . John Boehner, Nancy Pelosi, Harry Reid and Mich McConnell should make Mr. Speaker! mandatory reading."
-- The Sunday Star-Ledger (Newark, NJ)



"Rollicking…. [a] droll, urbane narrative…. A lively, opinionated, and timely study of irresponsible politics grappling with a dire economy…. Grant's Reed encapsulates a political era that is the mirror image of our own."
--Publishers Weekly (Starred Review)



"It is good to have this excellent biography of Thomas Reed, a vastly underappreciated major figure in American political history. But it is especially worthwhile reading about him right now, because his era has so many similarities – maybe too many – with our own tumultuous and dysfunctional times."
—The New York Times Book Review



"A winning new biography. . . . After his death, oblivion overtook Reed quite quickly. Grant has helped restore him to his rightful place among the giants of the House."
—Roll Call



"Astute. . . . Grant is excellent in explaining how Reed could be a man of principle but also a practical politician."
—The Washington Post
Advertisement