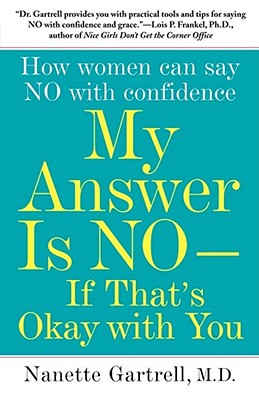 My Answer is No . . . If That's Okay with You
How Women Can Say No with Confidence
Paperback

* Individual store prices may vary.
Description
Are you afraid you'll hurt the people you care about if you say NO to them?
Can you set limits when employees neglect their responsibilities? How about with your boss?
When friends ask you to do something you don't want to do, do you invent an elaborate excuse?
Do you have a hard time saying NO to an invitation even when you're completely exhausted?
Do you have trouble even practicing the sentence "No, Mom, I just can't make it home this holiday"?
If any of these scenarios sound familiar, keep reading - you need this book...
No is a very simple word -- two letters, one syllable. Yet many women have a hard time saying it without feeling anxious or guilty.
In My Answer Is NO...If That's Okay with You
, award-winning psychiatrist and author Dr. Nanette Gartrell takes a fresh look at why even the most powerful, accomplished, and successful women find it difficult to say no and offers a revolutionary approach to setting limits without jeopardizing important relationships.
Today women are bombarded with messages like "put yourself first" and "stop being a people-pleaser." But this sort of advice is useless to women who value the caring and generosity that prompt them to say yes in the first place. Through personal interviews with a diverse group of talented women, including CEOs, celebrities, physicians, and public officials, Dr. Gartrell shows that women's reluctance to say no stems from valuable traits that they should embrace, such as empathy, sensitivity, and thoughtfulness. With humor and wisdom, Dr. Gartrell reaffirms the psychological importance of compassion and feeling connected, which can often lead a woman to say yes rather than no in order to preserve a relationship or spare someone's feelings. Through entertaining anecdotes and insights from her years of clinical practice, Dr. Gartrell teaches women to honor their best instincts while still maintaining boundaries.
My Answer Is NO...If That's Okay with You
offers creative, practical ways to transform an automatic or reluctant yes into a healthy, respectful no -- and still feel good about it.
Praise For My Answer is No . . . If That's Okay with You: How Women Can Say No with Confidence…
"Dr. Gartrell provides you with practical tools and tips for saying no with confidence and grace." -- Lois P. Frankel, PhD, author of Nice Girls Don't Get the Corner Office

"Women need to maintain healthy boundaries while also preserving life-giving relationships. Dr. Gartrell tells you exactly how to do just that. This information is essential for all women." -- Christiane Northrup, MD, author of Women's Bodies, Women's Wisdom and The Wisdom of Menopause

"NO...So it's only two letters, but that tiny word can make the difference between a small raise and the corner office. The dirty little secret is that when it comes to the workplace you don't have to do everything that is asked of you in order to succeed. In fact, setting realistic expectations for yourself and for the people around you is often the key to professional happiness. My Answer Is NO teaches all of us how to set boundaries and reclaim our self-respect by employing that tiny yet potentially life-changing word." -- Caitlin Friedman, coauthor of The Girl's Guide to Kicking Your Career into Gear and The Girl's Guide to Being a Boss (Without Being a Bitch)

"This book is like having a great therapist at your side -- smart and compassionate with on-the-spot advice on how to set limits in all aspects of your life. Give this book to your daughters as they negotiate their way through school, friendships, and first jobs." -- Rosalind Wiseman, author of Queen Bees & Wannabes and Queenbee Moms & Kingpin Dads

"Sound advice and fascinating insights on why we have trouble setting limits as women. Dr. Gartrell shows us that even the most accomplished women in a countless variety of careers are challenged by saying no, and that they, like the rest of us, can learn to do it with conviction and joy." -- Patti Breitman, coauthor of How to Say No Without Feeling Guilty
Atria Books, 9781416546955, 272pp.
Publication Date: January 6, 2009
About the Author
Nanette Gartrell, M.D., is a Williams Institute Visiting Distinguished Scholar, UCLA School of Law. Dr. Gartrell also has a Guest Appointment at the University of Amsterdam, and she was previously on the faculty at Harvard Medical School and UCSF. She is a psychiatrist and researcher whose groundbreaking investigations have been published in professional journals and cited in the media. Dr. Gartrell has appeared on network television (including PBS, Good Morning America, CNN, NBC, CBS, and Fox News), and on public, talk, and Sirius satellite radio. Her articles have appeared in The New York Times Magazine, the San Francisco Chronicle Magazine, Ladies' Home Journal, and The Christian Science Monitor. She lives in San Francisco with her spouse.