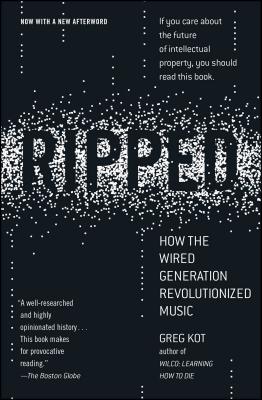 Ripped (Paperback)
How the Wired Generation Revolutionized Music
Scribner Book Company, 9781416547310, 288pp.
Publication Date: May 11, 2010
Other Editions of This Title:
Hardcover (5/19/2009)
* Individual store prices may vary.
Description
No less than a decade ago, the majority of mainstream music was funneled through a handful of media conglomerates. But now more individuals are listening to more music from a greater variety of sources than at any time in history. Ripped tells the story of how the laptop generation created a new music industry, with fans and bands rather than corporations in charge. In this new world, bands aren't just musicmakers but self-contained multimedia businesses; and fans aren't just consumers but distributors and even collaborators. Since this digital revolution hit the music industry, its infiltration into every other form of media has been well documented, if often not well understood. Ripped brilliantly illustrates how, when, and where the changes happened first and leaves us with an understanding of how to move forward.
Praise For Ripped: How the Wired Generation Revolutionized Music…
"A well-researched and highly opinionated history. . . . This book makes for provocative reading, but Kot is above all a music lover and that comes across nomatter which side of the issue you're on."



"[Ripped] is the best kind of journalism, even-tempered and provocative, factual and soulful."



"Greg Kot tell us what happened . . . in his well-reported book about music in the Internet Age. . . . Kot understands that it's always entertaining to detail the thrash and roar of a carnivorous dinosaur in its death throes, as small and clever mammals—in this case, music lovers—win the day."



"Thought-provoking . . . enlightening . . . [a] substantive examination of the chaotic music world."



"If you're looking for a big-picture guide to music, and how you interact with it, right-this second, Ripped is a good way to go."



"Mr. Kot, who writes in an engaging but highly anecdotal style, does a nimble job of showing how the Internet has lifted the careers of particular musicians."

-Michiko Kakutani


"Kot is a talented critic."



"Stands out for its sturdily constructed prose and command of up-to-date facts. . . . The book thankfully avoids the technology and industry gossip possibilities inherent in the subject and instead focuses on the sometimes unexpectedly wonderful mutations in the way that musicians and listeners think about popular music."



"Clear, concise and entertaining account of the tectonic shift in the recording industry over the past decade . . . Indispensable for anyone who wants to understand popular music in the 21st century."



"A perceptive, unblinking, and up-to-the-minute take on the seismic transformations of the recording industry in the digital age. . . Kot's breezy, entertaining, journalistic style and sympathetic tone consistently draw in the reader. Essential for all those interested in the intersection of music and technology."
or
Not Currently Available for Direct Purchase