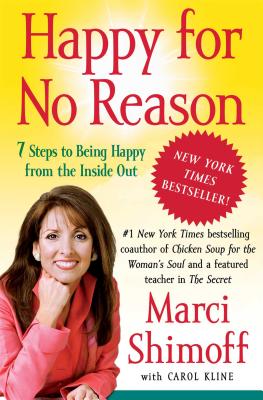 Happy for No Reason (Paperback)
7 Steps to Being Happy from the Inside Out
Atria Books, 9781416547730, 336pp.
Publication Date: March 3, 2009
Other Editions of This Title:
Hardcover (1/1/2008)
* Individual store prices may vary.
Description
A BREAKTHROUGH APPROACH TO HAPPINESS

What would it take to make you happy? A fulfilling career, a big bank account, or the perfect mate? What if it didn't take anything to make you happy? What if you could experience happiness from the inside out—no matter what's going on in your life?

In Happy for No Reason: 7 Steps to Being Happy from the Inside Out, transformational expert Marci Shimoff offers a breakthrough approach to being happy. Incorporating the latest findings in positive psychology, powerful tools and tech­niques, and moving real-life stories, this life-changing 7-step program will raise your "happiness set-point." You don't have to have happy genes, win the lottery, or lose twenty pounds. This book will enable you to experience more unconditional happi­ness in your life—starting today!
About the Author
Marci Shimoff is a celebrated transformational leader and a #1 New York Times bestselling author. In addition to authoring the worldwide bestseller Happy for No Reason, she is the coauthor of six of the top-selling titles in the Chicken Soup for the Soul series and a featured teacher in the international movie and book sensation The Secret. President and cofounder of The Esteem Group, Marci delivers keynote addresses and seminars to corporations, women's associations, and professional and non-profit organizations. Over the past 28 years, Marci has inspired millions of people around the world, sharing her breakthrough methods for personal fulfillment and professional success.

Carol Kline is a #1 New York Times bestselling author and the coauthor of Happy for No Reason and five books in the Chicken Soup for the Soul series.
Praise For Happy for No Reason: 7 Steps to Being Happy from the Inside Out…
"With Happy for No Reason, Marci Shimoff has hit a home run. This book presents a definitive, broad-based approach to becoming truly happy that combines great spiritual depth, top-notch research, and psychological practicality. I'm certain that if you follow the practices in her dazzling new book, you too will manifest a lifetime of happiness." -- from the Foreword by Jack Canfield, author of The Success Principles and cocreator of the bestselling Chicken Soup for the Soul series

"You can't depend on external circumstances for lasting happiness. It has to come from inside you. Based on scientific research and the experiences of truly happy people, Happy for No Reason shows you step-by-step how to raise your happiness set-point." -- Mehmet C. Oz, MD, coauthor of You: On a Diet and You: Staying Young

"Marci Shimoff is one of the most compelling people I've ever known. I'm happy she's shared her wisdom with all of us in Happy for No Reason." -- Marianne Williamson, #1 New York Times bestselling author of A Return to Love

"Happy for No Reason offers seven clear, powerful, and effective steps you can practice to be happier right now!" -- John Gray, #1 New York Times bestselling author of Men Are from Mars, Women Are from Venus

"This book is a wonderful collection of techniques and examples, shared by people who have had one of the most important realizations I think we can have -- that we already have within us the ability to live in a state of Happy for No Reason." -- Lindsay Wagner, Emmy Award-winning actress, The Bionic Woman