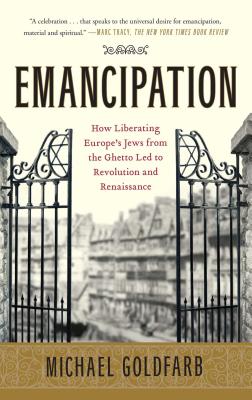 Emancipation
How Liberating Europe's Jews from the Ghetto Led to Revolution and Renaissance
Paperback

* Individual store prices may vary.
Description
The first popular history of the Emancipation of Europe's Jews in the eighteenth and nineteenth centuries—a transformation that was startling to those who lived through it and continues to affect the world today.

Freed from their ghettos, Jews ushered in a second renaissance. Within a century Marx, Freud, and Einstein created revolutions in politics, human science, and physics that continue to shape our world. Proust, Schoenberg, Mahler, and Kafka redefined artistic expression.

Emancipation reformed the practice of Judaism, encouraged some to imagine a modern nation of their own, and within decades led to the dream of Zionism.
Praise For Emancipation: How Liberating Europe's Jews from the Ghetto Led to Revolution and Renaissance…
"A celebration. . . that speaks to the universal desire for emancipation, material and spiritual."

–Marc Tracy, The New York Times Book Review

"This is one of those marvelous books that not only illuminates an important chain of historical events, but provides timeless—and especially timely—lessons for our own age. . . .Impassioned, thoughtfully argued, well-expressed. . . .Goldfarb has rendered an enormous service."

--Martin Rubin, The Washington Times

"A compelling history of one of the most important social and cultural phenomena of modern times. . . . Good, popular history. . . [a] timely look at an important topic." –Library Journal
Simon & Schuster, 9781416547976, 432pp.
Publication Date: November 23, 2010
About the Author
For almost two decades, Michael Goldfarb was public radio's voice in London. First, as NPR's London Bureau Chief then as Senior Correspondent of Inside Out, the award-winning public radio documentary program. In that time Goldfarb covered major conflicts from Bosnia to Iraq, conflict resolution in Northern Ireland, as well as British politics and culture. His reports, written with flair and insight, have won him the highest honors on both sides of the Atlantic including the DuPont-Columbia Award, the Overseas Press Club Award and British radio's highest honor, the Sony Award, in the category of Best Original Writing for Radio. He was the first American to win that award.