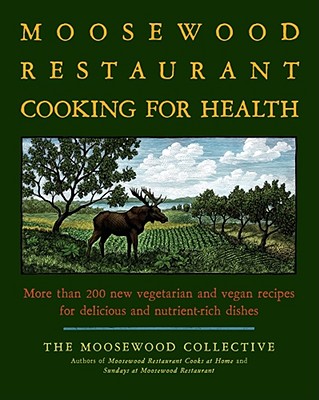 The Moosewood Restaurant Cooking for Health (Paperback)
More Than 200 New Vegetarian and Vegan Recipes for Delicious and Nutrient-Rich Dishes
Simon & Schuster, 9781416548874, 368pp.
Publication Date: November 3, 2009
Other Editions of This Title:
Hardcover (11/3/2009)
* Individual store prices may vary.
Description
Eat you greens. . . and your yellows and oranges, your blues and purples, and your blacks and reds and browns!

It's a great time to eat well. Farmers' markets filled with local and organic vegetables are sprouting up everywhere, and supermarkets are spilling over with whole grain choices, bigger and better produce sections, and a variety of healthier convenience foods. Cooking for both health and pleasure has made creating this, our twelfth cookbook, a wonderful experience. What always remains fresh and constant is the joy we find in cooking and delight in eating.

—From the Introduction
About the Author
The Moosewood Collective has nineteen members who share responsibilities and participate in the various jobs necessary to run what has grown from a very small natural foods restaurant to a larger and more diversified company. Most members of the Collective have worked together for at least 15 years, and some have worked for the restaurant since it was founded in 1973. The Moosewood Collective is the recipient of three James Beard Awards and numerous nominations. Moosewood Restaurant Cooking for Health is its twelfth book.