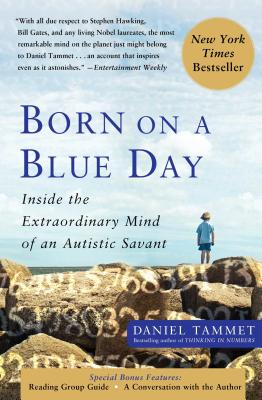 Born on a Blue Day (Paperback)
Inside the Extraordinary Mind of an Autistic Savant
Free Press, 9781416549017, 256pp.
Publication Date: October 16, 2007
Other Editions of This Title:
MP3 CD (1/9/2007)
Hardcover (1/9/2007)
Compact Disc (1/9/2007)
Paperback (1/1/2009)
Compact Disc (1/9/2007)
Pre-Recorded Audio Player (12/1/2009)
* Individual store prices may vary.
Description
A journey into one of the most fascinating minds alive today--guided by the owner himself. Bestselling author Daniel Tammet (Thinking in Numbers) is virtually unique among people who have severe autistic disorders in that he is capable of living a fully independent life and able to explain what is happening inside his head. He sees numbers as shapes, colors, and textures, and he can perform extraordinary calculations in his head. He can learn to speak new languages fluently, from scratch, in a week. In 2004, he memorized and recited more than 22,000 digits of pi, setting a record. He has savant syndrome, an extremely rare condition that gives him the most unimaginable mental powers, much like those portrayed by Dustin Hoffman in the film Rain Man. Fascinating and inspiring, Born on a Blue Day explores what it's like to be special and gives us an insight into what makes us all human--our minds.
Praise For Born on a Blue Day: Inside the Extraordinary Mind of an Autistic Savant…
"Artists and poets would give their best simile to perceive things with the same kind of vividness...For anyone interested in the workings of a truly 'beautiful mind,' Born on a Blue Day is a banquet."



-- Minneapolis Star Tribune




"Tammet, now 28, manages the feat of introspection -- and self-insight. His book brims with humanity. His approach is honest, eloquent, at times funny, and completely free of pity."



-- The Cleveland Plain Dealer




"With all due respect to Stephen Hawking, Bill Gates, and any living Nobel laureates, the most remarkable mind on the planet just might belong to Daniel
Tammet...Tammet displays a surprising level of sensitivity -- and a refreshing lack of sentimentality -- in an account that inspires even as it astonishes."



-- Entertainment Weekly




"Remarkable, revealing, and nearly flawless."



-- The Raleigh News & Observer