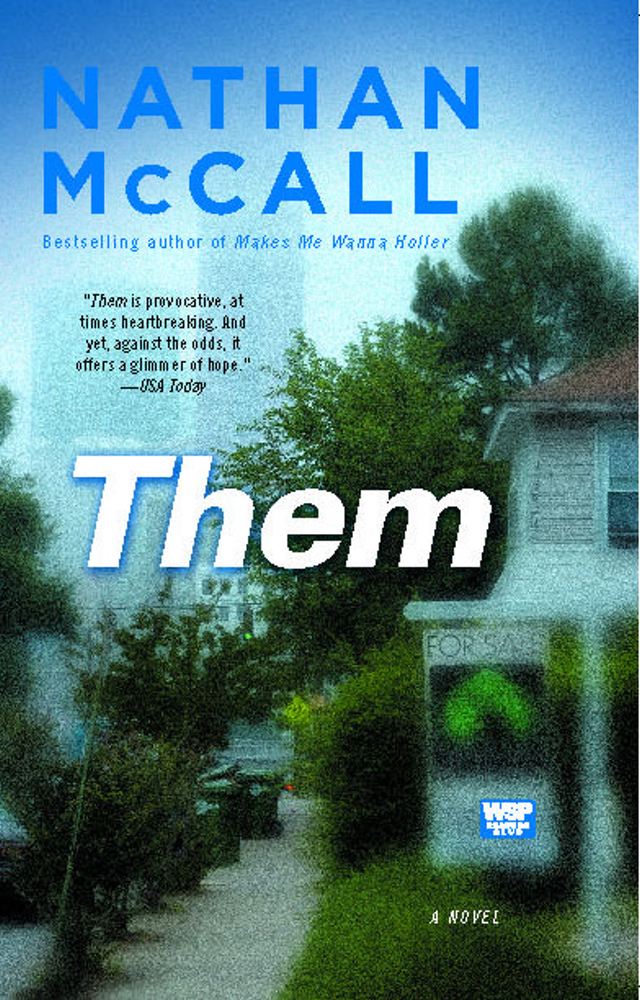 Them (Paperback)
A Novel
Washington Square Press, 9781416549161, 368pp.
Publication Date: August 19, 2008
Other Editions of This Title:
Digital Audiobook (11/6/2007)
Hardcover (11/6/2007)
Pre-Recorded Audio Player (9/1/2009)
MP3 CD (11/1/2007)
Compact Disc (11/1/2007)
Compact Disc (10/1/2007)
Audio Cassette (11/1/2007)
Hardcover, Large Print, Large Print (4/1/2008)
Audio Cassette (11/1/2007)
* Individual store prices may vary.
Description
The author of the bestselling memoir Makes Me Wanna Holler presents a profound debut novel -- in the tradition of Tom Wolfe's Bonfire of the Vanities and Zadie Smith's White Teeth -- that captures the dynamics of class and race in today's urban integrated communities.

Nathan McCall's novel, Them, tells a compelling story set in a downtown Atlanta neighborhood known for its main street, Auburn Avenue, which once was regarded as the "richest Negro street in the world."

The story centers around Barlowe Reed, a single, forty-something African American who rents a ramshackle house on Randolph Street, just a stone's throw from the historic birth home of Dr. Martin Luther King, Jr. Barlowe, who works as a printer, otherwise passes the time reading and hanging out with other men at the corner store. He shares his home and loner existence with a streetwise, twentysomething nephew who is struggling to get his troubled life back on track.

When Sean and Sandy Gilmore, a young white couple, move in next door, Barlowe and Sandy develop a reluctant, complex friendship as they hold probing -- often frustrating -- conversations over the backyard fence.

Members of both households, and their neighbors as well, try to go about their business, tending to their homes and jobs. However, fear and suspicion build -- and clashes ensue -- with each passing day, as more and more new whites move in and make changes and once familiar people and places disappear.

Using a blend of superbly developed characters in a story that captures the essence of this country's struggles with the unsettling realities of gentrification, McCall has produced a truly great American novel.
About the Author
Nathan McCall, author of Makes Me Wanna Holler, has worked as a journalist for The Washington Post. Currently, he teaches in the African American Studies Department at Emory University and lives in Atlanta, Georgia.
Praise For Them: A Novel…
"Nathan McCall's debut novel, Them, a mirror of our time and souls, is awesome and destined to become a contemporary classic." -- Eric Jerome Dickey, New York Times bestselling author

"What should we write about in our complex and changing world? And how? These are the questions that a writer constantly asks....Nathan McCall masterfully provides us with an answer. His novel could be taken as a model for modern writing." -- Maryse Condé,award-winning author of The Story of the Cannibal Woman

"Them is a character-driven, insightful novel that gives readers an entertaining and balanced glance at gentrification. Nathan McCall has done a brilliant job of showcasing his talent, while at the same time showing his compassion for human nature." -- Zane, New York Times bestselling author of Afterburn

"Nathan McCall's honesty and insight captivated the nation in Makes Me Wanna Holler, and those qualities drive his sure-handed leap to fiction in McCall's beautifully written first novel,Them. With painstaking balance and vivid characters both black and white, Them is a gripping and timely dispatch from the unfolding story of race relations in America. Nathan McCall is a national treasure." -- Tananarive Due, American Book Award-winning author of Joplin's Ghost and Freedom in the Family: A Mother-Daughter Memoir of the Fight for Civil Rights

"Complex and flawed characters weave a story that tests our own contradictory feelings about gentrification and racial and class bias. A compelling read." -- Erica Simone Turnipseed, author of A Love Noire, Hunger, and the upcoming My Name Is Zanzibar