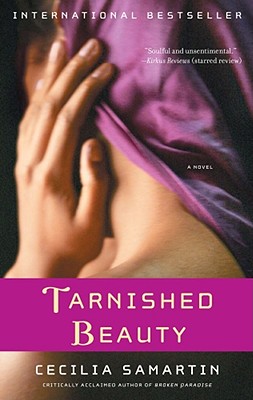 Tarnished Beauty (Paperback)
Washington Square Press, 9781416549512, 339pp.
Publication Date: June 2, 2009
Other Editions of This Title:
Hardcover (3/18/2008)
* Individual store prices may vary.
Description
Now available in paperback from the critically acclaimed author whose writing is "soulful and unsentimental" (Kirkus Reviews)-- a profound story that reflects on the true meaning of beauty. From the moment she was born, Jamilet's gruesome birthmark frightened the superstitious villagers in her rural Mexican town, making them believe she was marked by the devil: "It was said by some to resemble a freshly gutted cow, by others to writhe like many snakes in a pit of blood. The few who had actually seen it said it was beyond description and that they were unable to sleep for days after seeing it." When she enters young womanhood, she can no longer bear her lonely, scorned life as an outcast. She flees her oppressive village and illegally crosses the border to Los Angeles in hopes of finding a medical cure for her physical affliction. Eventually, Jamilet finds work at a mental hospital where she attends to the eccentric and disagreeable elderly Se or Peregrino. He begins to share with her the glorious stories from his youth when he embarked on a religious pilgrimage along the legendary and mystical Road to Santiago. An unlikely spiritual connection forges between them--healing their minds, bodies, and hearts in ways that medicine could not. Tarnished Beauty is a compelling story of redemption, faith, and the enduring power of friendship that examines the wounds of the soul.
About the Author
Cecilia Samartin was born in Havana during the Cuban Revolution and arrived with her parents in the United States as a refugee. She grew up in Los Angeles and lives with her husband in San Gabriel, California.
Praise For Tarnished Beauty…
"Samartin's clear eye and passionate heart imbue this novel with an unforgettably tender portrayal of the determination of the human spirit." --Nora Pierce, author of The Insufficiency of Maps



"In Tarnished Beauty, Samartin has created a splendid tale, peopled with rich characters she fashions with a knowledgeable and deft hand. Jamilet is endearing and tough, a revelation. Samartin is certainly a writer to watch." --Indu Sundaresan, author of The Splendor of Silence



"The greatest message in this wonderful book about believing in miracles, the power of storytelling and the relative value of beauty, is this: you're beautiful if you believe in your own beauty. Written in the vain of Isabel Allende." --In Magzine (a Dutch lifestyle magazine)