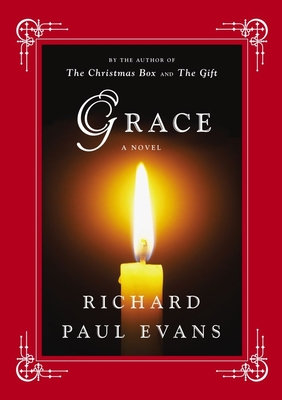 Grace (Hardcover)
A Novel
Simon & Schuster, 9781416550037, 336pp.
Publication Date: October 7, 2008
Other Editions of This Title:
Digital Audiobook (10/6/2008)
CD-Audio (10/29/2013)
Hardcover, Large Print (11/1/2008)
CD-Audio (10/7/2008)
* Individual store prices may vary.
Description
A heartwarming and inspirational Christmas novel in the tradition of The Christmas Box, The Gift, and The Christmas List. The New York Times bestselling author of The Christmas Box and The Walk series returns with a holiday novel of hope, love, and redemption.

She was my first kiss. My first love. She was a little match girl who could see the future in the flame of a candle. She was a runaway who taught me more about life than anyone has before or since. And when she was gone my innocence left with her.

As I begin to write, a part of me feels as if I am awakening something best left dead and buried, or at least buried. We can bury the past, but it never really dies. The experience of that winter has grown on my soul like ivy climbing the outside of a home, growing until it begins to tear and tug at the brick and mortar.

I pray I can still get the story right. My memory, like my eyesight, has waned with age. Still, there are things that become clearer to me as I grow older. This much I know: too many things were kept secret in those days. Things that never should have been hidden. And things that should have.
About the Author
Richard Paul Evans is the #1 bestselling author of The Christmas Box. Each of his more than thirty-five novels has been a New York Times bestseller. There are more than thirty-five million copies of his books in print worldwide, translated into more than twenty-four languages. He is the recipient of numerous awards, including the American Mothers Book Award, the Romantic Times Best Women's Novel of the Year Award, the German Audience Gold Award for Romance, five Religion Communicators Council Wilbur Awards, the Washington Times Humanitarian of the Century Award and the Volunteers of America National Empathy Award. He lives in Salt Lake City, Utah, with his wife, Keri, and their five children. You can learn more about Richard on Facebook at Facebook.com/RPEFans, or visit his website RichardPaulEvans.com.