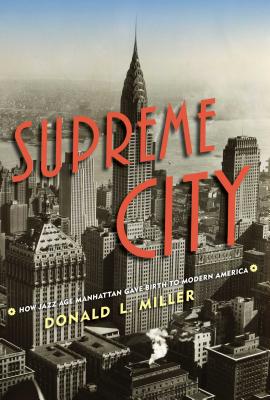 Supreme City (Hardcover)
How Jazz Age Manhattan Gave Birth to Modern America
Simon & Schuster, 9781416550198, 784pp.
Publication Date: May 6, 2014
Other Editions of This Title:
Paperback (5/19/2015)
* Individual store prices may vary.
Description
While F. Scott Fitzgerald wrote, Manhattan was transformed by jazz, night clubs, radio, skyscrapers, movies, and the ferocious energy of the 1920s, as this illuminating cultural history brilliantly demonstrates.

In four words—"the capital of everything"—Duke Ellington captured Manhattan during one of the most exciting and celebrated eras in our history: the Jazz Age. Radio, tabloid newspapers, and movies with sound appeared. The silver screen took over Times Square as Broadway became America's movie mecca. Tremendous new skyscrapers were built in Midtown in one of the greatest building booms in history.

Supreme City is the story of Manhattan's growth and transformation in the 1920s and the brilliant people behind it. Nearly all of the makers of modern Manhattan came from elsewhere: Walter Chrysler from the Kansas prairie; entertainment entrepreneur Florenz Ziegfeld from Chicago. William Paley, founder of the CBS radio network, was from Philadelphia, while his rival David Sarnoff, founder of NBC, was a Russian immigrant. Cosmetics queen Elizabeth Arden was Canadian and her rival, Helena Rubenstein, Polish. All of them had in common vaulting ambition and a desire to fulfill their dreams in New York. As mass communication emerged, the city moved from downtown to midtown through a series of engineering triumphs—Grand Central Terminal and the new and newly chic Park Avenue it created, the Holland Tunnel, and the modern skyscraper. In less than ten years Manhattan became the social, cultural, and commercial hub of the country. The 1920s was the Age of Jazz and the Age of Ambition.

Original in concept, deeply researched, and utterly fascinating, Supreme City transports readers to that time and to the city which outsiders embraced, in E.B. White's words, "with the intense excitement of first love."
About the Author
Donald L. Miller is the John Henry MacCracken Professor of History Emeritus at Lafayette College and author of ten books, including Vicksburg, and Masters of the Air, currently being made into a television series by Tom Hanks. He has hosted, coproduced, or served as historical consultant for more than thirty television documentaries and has written for The New York Times, The Washington Post, and other publications.
Praise For Supreme City: How Jazz Age Manhattan Gave Birth to Modern America…
"[An] entertaining new history of Manhattan in its modern heyday. . . . Accessible, romantic, sweeping and celebratory."
— Beverly Gage

"A great skyscraper of a book. Supreme City is the improbable story not just of America's greatest metropolis during the Jazz Age, but the biography of an epoch."
— Rick Atkinson, author of The Guns at Last Light: The War in Europe, 1944-1945

"Sparkling. . . . The history of dozens of astonishing newcomers who — largely in one tumultuous decade, the 1920s — made New York into what Duke Ellington called the capital of everything. . . . Miller skillfully weaves these different and colorful strands into a narrative both coherent and vivacious. . . . The full story richly deserves his original synthesis and, for me, makes New York even more fascinating."
— Robert MacNeil

"Lower Manhattan dominated New York for three hundred years. In the 1920's, however, as Donald L. Miller makes clear in a page-turning book with an astonishing cast of characters, Midtown became the beating heart of the metropolis. Supreme City is about how these few square miles at the center of a small island gave birth to modern America. If you love Gotham, you will love this book."
— Kenneth T. Jackson, Barzun Professor of History, Columbia University; Editor-in-Chief, The Encyclopedia of New York City

"Sweeping. . . . Enjoyable. . . . [In the 1920s] New York was the United States intensified, an electric vessel into which the hopes and desires of a nation were distilled. As Mr. Miller's vivid and exhaustive chronicle demonstrates, Jazz Age Manhattan was the progenitor of cultural movements—individualized fusions of art and commerce—that came to symbolize the American way of life."
— David Freeland

"Donald L. Miller's latest triumph. . . . [he] elegantly introduces one vivid character after another to recreate a vital and archetypical era when, as Duke Ellington declared, the whole world revolved around New York."
— Sam Roberts

"Supreme City sings with all the excitement and the brilliance of the Jazz Age it recounts. Donald Miller is one of America's most fervent and insightful writers about the urban experience; here he gives us New York City at its grandest and most optimistic."
— Kevin Baker, author of The Big Crowd

"Supreme City captures a vanished Gotham in all its bustle, gristle, and glory."
— David Friend

"A splendid account of the construction boom in Midtown Manhattan between World War I and the Great Depression, and the transformation of transportation, communications, publishing, sports, and fashion that accompanied it. . . . [Miller is] a virtuosic storyteller."
— Glenn C. Altschuler

"Miller's Supreme City is an awesome book on an awesome subject, a time in the history of New York City when commerce and culture engaged in a symbiotic relationship, spurring an unprecedented boom in architecture, art, music, theater, popular culture and communications that lit up the city, then America, and then the world."
— Allen Barra

"Miller's saga . . . reads like an F. Scott Fitzgerald novel. . . . With a novelist's skill, he brings history alive through vignettes on the lives of gangsters, corporate barons, corrupt politicians, impresarios and sports legends who left their indelible imprint on the city, the nation, and history."
— Ron Devlin

"Donald L. Miller has long been one of my favorite historians. Anyone who reads Supreme City will understand why. Miller brilliantly examines the birth of Midtown Manhattan during the glorious Jazz Age. It's the story of how a gaggle of success-hungry out-of-towners—including Duke Ellington, Walter Chrysler, E. B. White, and William Paley—turned the Valley of Giant Skyscrapers near Grand Central Terminal into the symbolic epicenter of wealth, power, and American can-doism. Highly recommended!"
— Douglas Brinkley, Professor of History, Rice University and author of Cronkite

"Lively . . . synthesizes a vast amount of material on everything from skyscrapers to showgirls to create a scintillating portrait of Manhattan in the '20s. . . . Much of Supreme City's charm comes from the amiable way Donald Miller ambles through Jazz Age Manhattan, exploring any corner of it that strikes his fancy."
— Wendy Smith

"The heart of the sprawling book is the human element, which Miller highlights as smoothly and illuminatingly as the American Civil War historian Shelby Foote. . . . He catches the dirt and laughter, the daring, the insane chances, the new technological marvels and even the beauty. . . . The result is certainly one of the best histories ever written of [New York City]."
— Steve Donoghue

"Miller captures the heady excitement and enduring creativity of 1920s Manhattan. . . . Conveying the panoramic sweep of the era with wit, illuminating details, humor, and style, Miller illustrates how Midtown Manhattan became the nation's communications, entertainment, and commercial epicenter."

"An award-winning historian surveys the astonishing cast of characters who helped turn Manhattan into the world capital of commerce, communication and entertainment. . . . The narrative bursts with a dizzying succession of tales about the politicos, impresarios, merchants, sportsmen, performers, gangsters and hustlers who accounted for an unprecedented burst of creativity and achievement. . . . A scholarly . . . social history but one with plenty of sex appeal."
— Kirkus Reviews (starred review, one of the Best History Books of the Year)
or
Not Currently Available for Direct Purchase