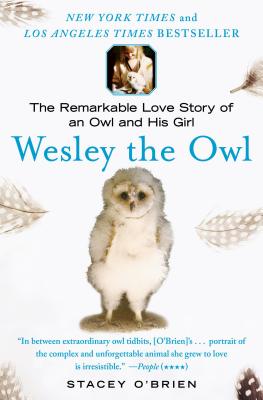 Wesley the Owl
The Remarkable Love Story of an Owl and His Girl
Paperback

* Individual store prices may vary.
Other Editions of This Title:
Digital Audiobook (12/7/2008)
MP3 CD (12/8/2008)
Compact Disc (12/8/2008)
Description
On Valentine's Day 1985, biologist Stacey O'Brien adopted Wesley, a baby barn owl with an injured wing who could not have survived in the wild. Over the next nineteen years, O'Brien studied Wesley's strange habits with both a tender heart and a scientist's eye—and provided a mice-only diet that required her to buy the rodents in bulk (28,000 over the owl's lifetime). She watched him turn from a helpless fluff ball into an avid com­municator with whom she developed a language all their own. Eventually he became a gorgeous, gold-and-white macho adult with a heart-shaped face who preened in the mir­ror and objected to visits by any other males to "his" house. O'Brien also brings us inside Caltech's prestigious research community, a kind of scientific Hogwarts where resident owls sometimes flew freely from office to office and eccentric, brilliant scientists were extraordinarily committed to studying and helping animals; all of them were changed by the animals they loved. As O'Brien gets close to Wesley, she makes astonishing discoveries about owl behavior, intelligence, and communication, coining the term "The Way of the Owl" to describe his noble behavior. When O'Brien develops her own life-threatening ill­ness, the biologist who saved the life of a helpless baby bird is herself rescued from death by the insistent love and courage of this wild animal.

Enhanced by wonderful photographs, Wesley the Owl is a thoroughly engaging, heart­warming, often funny story of a complex, emotional, non-human being capable of reason, play, and, most important, love and loyalty. Translated into eight languages and named an Audubon Magazine Editor's Choice, Wesley the Owl is sure to be cherished by animal lovers everywhere.
Praise For Wesley the Owl: The Remarkable Love Story of an Owl and His Girl…
"I love Wesley the Owl! Not since Konrad Lorenz have I read such an honest, vivid, and revealing account of the rich and complex life of an individual bird. Stacey O'Brien has captured the essence of the soul of an unforgettable owl. Affectionate, quirky, joyous, and wise, Wesley shows us the Way of the Owl -- the way to God and grace. This book is destined to become a classic, and will deepen importantly the way we understand birds." -- Sy Montgomery, author of The Good Good Pig

"Wesley the Owl is beautiful, funny, transcendental, fascinating, and powerful. I loved this book!" -- Lynne Cox, author of Grayson and Swimming to Antarctica

"This compelling story sheds a bright, shining light into the world of animal emotions and the powerful bonds forged between animals and humans. A heartfelt journey of life and love with one of nature's wild creatures, Wesley the Owl is a must-read story of faith, compassion, and selfless devotion." -- Jay Kopelman, author of From Baghdad, With Love and From Baghdad to America

"Most 'me and my bird' stories are mildly entertaining at best, but Wesley the Owl is a different animal altogether. Stacey O'Brien got to know this owl with a unique combination of deep scientific understanding and rare emotional intensity, and the result is stunning, unforgettable. Read this book and you will never see owls, or humans, in the same light again." -- Kenn Kaufman, author of Kingbird Highway and Flights Against the Sunset

"This fun book reminded me of Marley & Me, but with wings. Warm, weird, and wonderful, Wesley the Owl is proof that man's best friend sometimes has feathers." -- Mark Obmascik, author of The Big Year

"An inside look at the mind of an owl. If you are interested in animal intelligence, you should read this book." -- Temple Grandin, author of Animals in Translation

"The best of love stories between two intelligent beings, told (by the human) with good humor and remarkable insights into the mind of an owl -- I couldn't put it down." -- Donald Kroodsma, Ph.D., professor emeritus at University of Massachusetts, Amherst, and author of The Singing Life of Birds

"[S]weet, quirky memoir....[T]his little guy's such a character." -- USA Today

"Wesley will make you wonder if owls are not at least as wise as humans and as capable of compassion. Wesley the Owl will stretch your notions about the limits of interspecies communication and love. It will entertain, delight and, finally, cause you to weep. Guaranteed." -- Sam Keen, author of Sightings: Extraordinary Encounters With Ordinary Birds

"Stacey O'Brien tells the intriguing story of how her life was changed and rearranged when she attempted to tame and raise Wesley -- a barn owl. She shows us how she was ultimately repaid with his love and devotion, and given glimpses into the mind of an animal that has an unexpected ability to understand human language and to communicate. Fascinating!" -- Stanley Coren, psychologist and author of How Dogs Think and Why Does My Dog Act That Way?
Atria Books, 9781416551775, 256pp.
Publication Date: June 2, 2009
About the Author
Stacey O'Brien is trained as a biologist specializing in wild animal behavior. She graduated from Occidental College with a B.S. in Biology and continued her education at Caltech. She lives in southern California.
1. Do you think you could have done what the author did, devoting a good part of 19 years of her life to caring for an animal? Have you ever had a pet who demanded as much time, money, attention, and love as Wesley did? Did the way the pet and you relate to each other change as you both got older? Did your relationship with your pet change how you viewed the world?
2. How did Wesley help Stacey in her own life after she saved his? How did he save her life? What did she learn from Wesley that no other animal could have taught her?
3. What part of the book did you think was the funniest and what part did you think was the grossest? The biologists at the lab where Stacey works are very comfortable with animals. How do the relationships between scientists and the animals play a role in their scientific research and discoveries?
4. Think about the ways in which Stacey and Wesley were able to communicate with each other. To what extent do you think they understood one another? How is this similar to and different from communication between people? Communication between people and their pets? What are the differences between relating to an animal that lives a solitary life and relating to an animal that is predisposed to live in a social group or pack? What are the differences between relating to an animal that is wild and an animal that is domesticated?
5. What scientific discoveries did Stacey make about barn owls, and what surprised you most about barn owls? Before you read this book, what was your impression of barn owls? Did reading this book change your mind, and if so, in what ways?