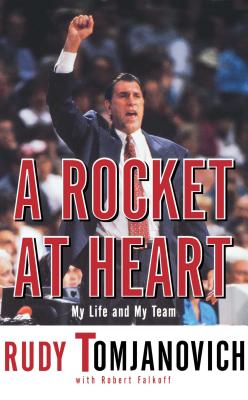 A Rocket at Heart (Paperback)
My Life and My Team
Simon & Schuster, 9781416552062, 304pp.
Publication Date: February 1, 2007
* Individual store prices may vary.
Description
In A Rocket at Heart, Rudy Tomjanovich tells the story of how the son of hardworking Croatian parents from Hamtramck, Michigan, helped the city of Houston change its image from Choke City to Clutch City. With unusual insight and unsparing honesty, Rudy talks about the doubts, the fears, and the obstacles he's overcome in becoming such a successful and well-respected coach. He tells how he learned to be a coach while standing in the spotlight; how he developed his theories of offense and defense that helped the Rockets reach the pinnacle; how he learned when to teach with praise and when to be forceful; and how he learned valuable lessons from Bill Fitch about preparation, from Don Chaney about dignity, and from Del Harris about handling adversity. He also talks, for the first time, about the adversity he himself had to learn from: the devastating punch thrown by Kermit Washington that cost Rudy a season in his prime, and could have cost him his life. Along the way, Rudy shares great stories about all the people he's known and the fun he's had in a life in basketball. He talks about his old roommate Calvin Murphy, and how this seemingly mismatched pair became the closest of friends; about watching Hakeem Olajuwon develop into one of the most extraordinary players ever to play the game; about the enormous challenge of changing a championship team in midseason by making the Clyde Drexler trade, and the satisfaction of beating the odds by winning four straight playoff series without homecourt advantage (and then, a year and a half later, trying that transition game again by adding the always entertaining Charles Barkley to the mix). With remarkable candor and self-deprecating wit, Rudy T. shows us the roads he's traveled and the good times and high points along the way.