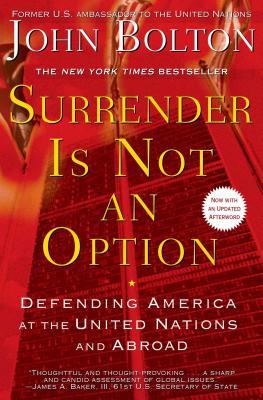 Surrender Is Not an Option
Defending America at the United Nations
Paperback

* Individual store prices may vary.
Other Editions of This Title:
Digital Audiobook (11/5/2007)
Hardcover (11/6/2007)
Description
With no-holds-barred candor, Donald Trump's new National Security Adviser and former ambassador to the United Nations takes us behind the scenes at the UN and the US State Department and reveals why his efforts to defend American interests and reform the UN resulted in controversy. He also shows how the US can lead the way to a more realistic global security arrangement for the twenty-first century and identifies the next generation of threats to America.

In this revealing memoir, John Bolton recounts his appointment in 2005 as Ambassador to the United Nations, his headline-making Senate confirmation battle, and his sixteen-month tenure at the United Nations. Bolton offers keen insight into such international crises as North Korea's nuclear test, Iran's pursuit of nuclear weapons, the genocide in Darfur, the negotiation that produced the controversial end of hostilities between Israel and Hezbollah, and more. Chronicling both his successes and frustrations in taking a hard line against weapons-of-mass-destruction proliferators, terrorists, and rogue states such as North Korea and Iran, he also exposes the operational inadequacies that hinder the UN's effectiveness in international diplomacy and its bias against Israel and the United States. At home, he criticizes the bureaucratic inertia in the US State Department that can undermine presidential policy.

This fascinating chronicle of the career of one of America's outstanding statesmen who has fought to preserve American sovereignty and strength at home and abroad now contains a new afterword, "Challenges for the Next President."
Praise For Surrender Is Not an Option: Defending America at the United Nations…
"Thoughtful and thought provoking...John can always be counted upon to provide a sharp and candid assessment of global issues." -- James A. Baker, III, 61st U.S. Secretary of State

"Intelligent, shrewd, direct, and fascinating, John Bolton's new book bears a remarkable resemblance to the man himself." -- Senator John McCain

"John Bolton defends the values of all who cherish and fight for freedom against the terrorists, their enablers, and their appeasers." -- Natan Sharansky

"No one understands the enemies of America and the threat to our survival better than Ambassador John Bolton...This is a must-read book." -- Newt Gingrich, Speaker of the U.S. House of Representatives from 1995 to 1999

"A vivid narrative of the making of America's foreign and defense policies...by a man who was there. John Bolton is a major national asset." -- Robert H. Bork, Distinguished Fellow, Hudson Institute

"This book about the challenges we face should be a wake-up call for America and the world." -- Mitt Romney, Governor of Massachusetts from 2003 to 2007

"An exceptionally well-written account of Ambassador Bolton's experiences in that most obtuse of all human institutions -- The United Nations...The story he tells is sometimes amusing, sometimes frightening, but never dull." -- Lawrence S. Eagleburger, 62nd U.S. Secretary of State
Threshold Editions, 9781416552857, 512pp.
Publication Date: July 1, 2008
About the Author
John Bolton is the former National Security Advisor to President Donald Trump. He served as the United States Ambassador to the United Nations from 2005 to 2006. He has spent many years of his career in public service and held high-level positions in the Administrations of Presidents Ronald Reagan, George H. W. Bush, and George W. Bush. Ambassador Bolton is also an attorney, and was in private practice in Washington, DC, from 1974 to 2018, except when he was in government service. Ambassador Bolton was born in Baltimore in 1948. He graduated with a BA, summa cum laude, from Yale College and received his JD from Yale Law School. He currently lives in Bethesda, Maryland.
or
Not Currently Available for Direct Purchase