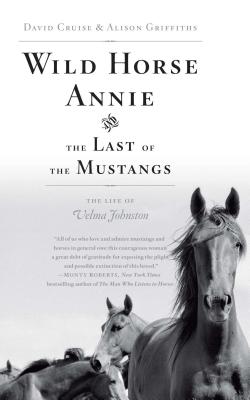 Wild Horse Annie and the Last of the Mustangs
The Life of Velma Johnston
Paperback

* Individual store prices may vary.
Other Editions of This Title:
Hardcover (3/16/2010)
Description
The true story of the intrepid woman whose life-long determination to protect America's mustangs captured the heart of the country.

In 1950, Velma Johnston was a thirty-eight-year-old secretary enroute to work near Reno, Nevada, when she came upon a truck of battered wild horses that had been rounded up and were to be slaughtered for pet food. Shocked and angered by this gruesome discovery, she vowed to find a way to stop the cruel round-ups, a resolution that led to a life-long battle that would pit her against ranchers and powerful politicians—but eventually win her support and admiration around the world. This is the first biography to tell her courageous true story.

Like Dian Fossey, Jane Goodall, or Temple Grandin, Velma Johnston dedicated her life to public awareness and protection of animals. Wild Horse Annie and the Last of the Mustangs follows Velma from her childhood, in which she was disfigured by polio, to her dangerous vigilante-style missions to free captured horses and document round-ups, through the innovative and exhaustive grassroots campaign which earned her the nickname "Wild Horse Annie" and led to Congress passing the "Wild Horse Annie Bill," to her friendship with renowned children's author and horse-lover Marguerite Henry.

A powerful combination of adventure, history, and biography, Wild Horse Annie and the Last of the Mustangs beautifully captures the romance and magic of wild horses and the character of the strong-willed woman who made their survival her legacy.
Praise For Wild Horse Annie and the Last of the Mustangs: The Life of Velma Johnston…
"Anyone who cares about the plight of America's Mustangs has heard the name Velma Johnston, but too few know the extraordinary and heroic lengths to which she went to save these horses. In Wild Horse Annie and the Last of the Mustangs, authors David Cruise and Alison Griffiths have given us a remarkable gift; a provocative, in-depth look into this amazing woman's life in a story brimming with adventure and inspiration. Not only is this a fascinating and powerful book, it is also a tremendously important one. I couldn't put it down, and when I finished reading it my faith in the power one person has to make a difference was renewed."
--Melanie Sue Bowles, author of The Horses of Proud Spirit and Hoof Prints: Stories from Proud Spirit




"Velma Johnson was a strong willed individual who made a difference. As a child she suffered from polio and in her era, careers for women were limited. She overcame these obstacles and stopped the atrocious abuse of wild horses."
--Temple Grandin, author, Animals in Translation and Animals Make us Human



"Velma Johnston (Wild Horse Annie) is one of the most important people in our American history. She single-handedly saved our mustangs and with that our western heritage. This is an important book and Cruise and Griffiths have done a spectacular job of bringing home her story."
--Madeleine Pickens, National Wild Horse Foundation



"This book captures the essence of the extraordinary life of Velma Johnston and what she was able to accomplish for the American Mustang. All of us who love and admire mustangs and horses in general owe this courageous woman a great debt of gratitude for exposing the plight and possible extinction of this breed. Through her tireless efforts she was the difference in helping make the world a better place for these wonderful animals that are part of our Western heritage."
--Monty Roberts, New York Times best-selling author of The Man Who Listens to Horses



"It doesn't get more American than the mustang, and without Wild Horse Annie, we would not have any. Now, as wild horses are making their last stand, it's important to honor her legacy and continue the battle. Thanks to this well-researched and timely book, we can."
--Deanne Stillman, author of Mustang: The Saga of the Wild Horse in the American West



"For 25 years, one extraordinary woman waged a lonely war against the cruel and greedy forces that were systematically removing the wild American mustangs from even the most inhospitable of federal lands. This book is a thoroughly researched and riveting tribute to the life and achievements of Velma Johnston and her struggles – against massive odds - to protect her beloved mustangs."
--Martin Harbury, author of The Last of the Wild Horses
Scribner, 9781416553366, 320pp.
Publication Date: February 23, 2013
About the Author
David Cruise and Alison Griffiths began writing together in 1983 and are the authors of seven bestselling books, including Fleecing the Lamb, Lords of the Line, Net Worth, On South Mountain, and The Great Adventure. Griffiths hosted the acclaimed financial television show "Maxed Out," for three years and she writes the nationally syndicated columns, Alison on Money and Me and My Money. They have two daughters and divide their time between their small farms in southwestern Ontario and Brooksville, Florida. Please visit wildhorseanniestory.com

David Cruise and Alison Griffiths began writing together in 1983 and are the authors of seven bestselling books, including Fleecing the Lamb, Lords of the Line, Net Worth, On South Mountain, and The Great Adventure. Griffiths hosted the acclaimed financial television show "Maxed Out," for three years and she writes the nationally syndicated columns, Alison on Money and Me and My Money. They have two daughters and divide their time between their small farms in southwestern Ontario and Brooksville, Florida. Please visit wildhorseanniestory.com