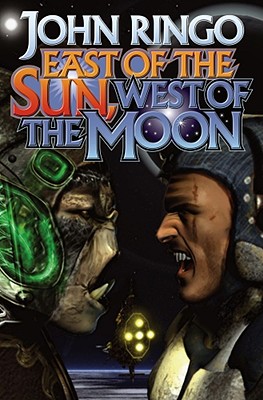 East of the Sun, West of the Moon ( Council Wars #4) (Mass Market)
Baen, 9781416555186, 432pp.
Publication Date: December 26, 2007
Other Editions of This Title:
Hardcover (5/1/2006)
* Individual store prices may vary.
Description
When the council that controlled the world-spanning computer Mother fell out in civil war, it plunged the world in an instant from high-tech utopia to medieval nightmare. Now Herzer Herrick and Megan Trevante have been assigned the mission to capture the spaceship that supplies the fuel for all of Earth. Given that Herzer vaguely thinks orbital decay is something having to do with teeth it should be . . . interesting. With all the usual combat expected in a John Ringo novel, East of the Sun and West of the Moon sheds new light on the bizarre relationship between Herzer and Megan, the politics of the new born world and fascinating details of space technology battles.
About the Author

John Ringo, as a veteran of the 82nd Airborne, brings first-hand knowledge of military operations to his fiction. His novels for Baen include the four novels in the New York Times best-selling Posleen Invasion series (A Hymn Before Battle, Gust Front, When the Devil Dances, and Hell's Faire), his far-future series, of which East of the Sun and West of the Moon is the latest (preceded by There Will be Dragons, Emerald Sea and Against the Tide), and four collaborations with New York Times best-selling author David Weber (March Upcountry, March to the Sea, March to the Stars and We Few).