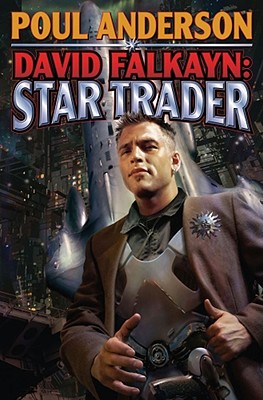 David Falkayn
Star Trader
Hardcover

* Individual store prices may vary.
Other Editions of This Title:
Mass Market (2/23/2010)
Description
1. Poul Anderson remains one of science fiction's most popular writers, and this generous volume of his best work, with wide-ranging themes and settings, will attract his thousands of fans and win him many new ones. 2. Included is a complete novel, Satan's World, and a number of equally exciting short novels. 3. A book with strong appeal to readers of David Drake's RCN series. 4. Many of the works in this volume have been out of print for years, and none have been previously gathered together in chronological sequence. Long-time Anderson fans will welcome old friends, and newer Anderson fans will find a host of prime, real science fiction by one of the field's very best. 5. Advertising in Locus, more The Polesotechnic League of star traders was prospering, and Nicholas Van Rijn, its most flamboyant member, was prospering most of all as commerce flowed between the stars. But not all League members played fair when trading, nor did some of the non-human races of the galaxy object to dirty tricks. Van Rijn could not be everywhere, and relied on his representatives, foremost among them his young prot g , David Falkayn, and the members of David's trader team: Adzel, a large dragon-like being who practiced Buddhism, and Chee-Lan, a brilliant but hot-tempered felinesque extraterrestrial. This is the second volume in the first complete edition of Poul Anderson's Technic Civilization saga. And, after the three volumes chronicling the Polesotechnic League's rise and fall will come more volumes, telling of the rise of the Terran Empire and the adventures of Poul Anderson's other legendary character, Captain Sir Dominic Flandry.
Baen Books, 9781416555209, 492pp.
Publication Date: January 6, 2009
About the Author
Poul Anderson was one of the most prolific and popular writers in science fiction. He won the Hugo Award seven times and the Nebula Award three times, as well as many other awards, notably including the Grand Master Award of the Science Fiction Writers of America for a lifetime of distinguished achievement. With a degree in physics, and a wide knowledge of other fields of science, he was noted for building stories on a solid foundation of real science, as well as for being one of the most skilled creators of fast-paced adventure stories. He was author of over a hundred novels and story collections, and several hundred short stories, as well as several mysteries and nonfiction books. He died in 2001.
or
Not Currently Available for Direct Purchase