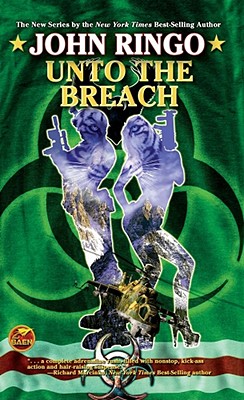 Unto the Breach (The Ghost #4) (Mass Market)
Baen, 9781416555353, 608pp.
Publication Date: April 1, 2008
Other Editions of This Title:
Hardcover (11/28/2006)
MP3 CD (6/21/2016)
* Individual store prices may vary.
Description
Sequel to Ghost, Kildar and Choosers of the Slain.

Michael Harmon has been there and done that. Rescued co-eds, killed major terrorists, stopped nuclear assaults. Now he'd just like to kick back and relax with his harem of lovelies. Unfortunately, the world keeps turning. Mike and the Keldara are back tracking down terrorists, rogue Russian bio-scientists and the doomsday weapon to end all doomsday weapons. It's going to take some very tough, hard and nasty people to stop the end of the world. Fortunately, there's Mike Harmon. The Hero of Ghost, Kildar and Choosers of the Slain, along with his company of elite mountain fighters, is sent on a mission to stop an advanced smallpox plague from being turned over to terrorists. But that will only be the beginning as the Kildar and his Keldara rush to stop a host of WMD attacks, coordinated to take out the very heartland of terrorism's enemies. It's a battle for culture, and this time the terrorists aren't aiming at just one building...
About the Author
John Ringo had visited 23 countries and attended 14 schools by the time he graduated high school. This left him with a wonderful appreciation of the oneness of humanity and a permanent aversion to foreign food. A veteran of the 82nd Airborne, he brings first-hand knowledge of military operations to his fiction. In addition to his nationally best-selling techno-thriller novels about Mike Harmon, his novels for Baen include the novels in the New York Times best-selling Posleen War series (A Hymn Before Battle, Gust Front, When the Devil Dances, and Hell's Faire), the Council War series (There Will be Dragons, Emerald Sea, Against the Tide, and East of the Sun, West of the Moon), the novel Into the Looking Glass, four collaborations with fellow New York Times bestselling author David Weber (March Upcountry, March to the Sea, March to the Stars and We Few) and four collaborative spinoffs from the Posleen series: Hero (with Michael Z. Williamson), Watch on the Rhine and Yellow Eyes (both with Tom Kratman), and the New York Times best seller Cally's War (with Julie Cochrane).