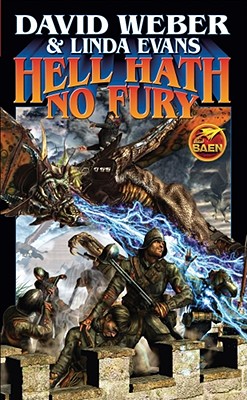 Hell Hath No Fury (BOOK 2 in new MULTIVERSE series)
Mass Market

* Individual store prices may vary.
Other Editions of This Title:
Paperback (2/2/2016)
MP3 CD (7/5/2016)
Hardcover (3/6/2007)
Description
It began with two men. They came from very different worlds—entirely different universes, in fact—one using sorcery and the other using mental powers and steam-age technology. They met in a virgin forest on a duplicate planet Earth. Neither side knows who shot first, but each blames the other, and it doesn't really matter, now, because war has begun.



War between the universes is the last thing responsible leaders on either side want. But the fury of their respective populations, xenophobic fear of the unknown, and cries for "justice" (or vengeance), are all driving both sides towards the brink. And unscrupulous, power-hungry men—and Arcana and Sharona alike—have agendas of their own.



The fuse has been lit, and a war stretching across the universes, fought between dragons, spells, and crossbows and repeating rifles, machine guns, and artillery is erupting in white-hot rage and fury. Where it will end—and how—no one knows
Baen, 9781416555513, 704pp.
Publication Date: June 24, 2008
About the Author
With more than eight million copies of his books in print and 33 titles on the New York Times bestseller list, David Weber is a science fiction powerhouse. In the vastly popular Honor Harrington series, the spirit of C.S. Forester's Horatio Hornblower and Patrick O'Brian's Master and Commander lives on—into the galactic future. Books in the Honor Harrington and Honorverse series have appeared on 21 bestseller lists, including The Wall Street Journal, The New York Times, and USA Today. Additional Honorverse collaborations include the spin-off miniseries Manticore Ascendant with New York Times best-selling author, Timothy Zahn; and with Eric Flint, Crown of Slaves and Cauldron of Ghosts contribute to his illustrious list of New York Times and international bestseller lists.

Best known for his spirited, modern-minded space operas, Weber is also the creator of the Oath of Swords fantasy series and the Dahak saga, a science fiction and fantasy hybrid. Weber has also engaged in a steady stream of best-selling collaborations: the Starfire Series with Steve White; The Empire of Man Series with John Ringo; the Multiverse Series with Linda Evans and Joelle Presby; and the Ring of Fire Series with Eric Flint.

David Weber makes his home in South Carolina with his wife and children.
or
Not Currently Available for Direct Purchase