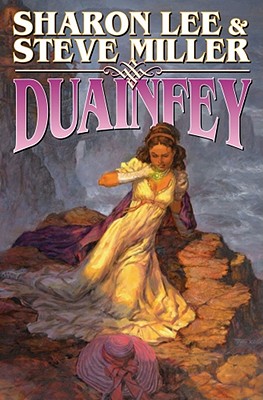 Duainfey
Hardcover

* Individual store prices may vary.
Other Editions of This Title:
Mass Market Paperbound (2/24/2009)
Description
Faliance is a world where there is traffic and trade between humans and Fey, elflike beings who control powerful magic. Lord Altimere is powerful, both in influence and in magic. The former because he is the Queen's most trusted advisor--and, if his plans succeed, her consort as well. The latter because of a secret. He has abducted a human, Rebecca Beauvelley, middle child of the Earl of Barimuir. Even overlooking her withered left arm, she is not a beauty in the sight of humans, but the Fey are attracted to the auras of humans, and Rebecca's exceeds even the most comely of human auras by a factor of ten. An enchanted collar which Altimere has placed around her neck makes her unable to resist obeying his orders. And each time she has an affair, carefully arranged by Altimere, with one of the Fey, some of their magical power passes through her to Altimere. So it was until Altimere was absent from the court, and Lady Sian of Sea Edge, one of the Queen's cousins, came for a visit, discovered that Rebecca was secretly a prisoner in her own mind, and freed her of Altimere's compulsion. Unfortunately, even now that both the Queen and Lady Sian know of Lord Altimere's plot, he may be too powerful for anything but a large number of other Fey, pooling their magical power, to bring to justice--and since getting Fey to act in concert is like herding cats, the Queen will need some time to cajole and persuade enough of her allies. Iin the meantime, Rebecca must be protected from Altimere--and from herself. She is determined to return home, which cannot yet be permitted. And if she cannot go home, she is even more determined to kill herself.
Baen Books, 9781416555520, 318pp.
Publication Date: September 2, 2008
About the Author
Steve Miller has been, in no particular order, a reviewer--of music, of books and of typewriters--a reporter, an editor, a professional chess tournament director, a librarian, an editor, a sysop, an editor and a resource specialist for a statewide electronic bulletin board system. He and Sharon Lee married in 1980, operated The Dreams Garth Art Agency for several years, and now live in Maine, with four cats, more computer equipment than two normal people need, a lot of books and almost as much music. Sharon Lee's has worked as administrative aide to the Dean of the School of Social Work, University of Maryland Professional Schools, as well as at odd and odder jobs, the most memorable of which was delivering tractor trailers, though selling cider at the Baltimore City Sunday Farmer's Market was fun, too. On the odder side, she worked as an advertising copy writer, both in-house and freelance. In 1988, Sharon, Steve, the cats, some of the books, most of the records and both of the computers moved to Maine. And there they all still are, rumors of a divorce and of Steve's demise being wildly exaggerated
or
Not Currently Available for Direct Purchase