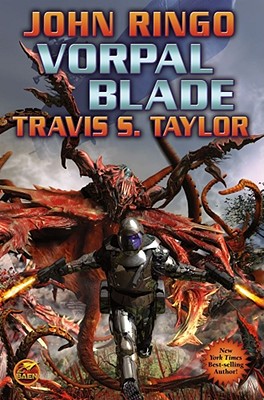 vorpal blade (Looking Glass #2) (Mass Market)
Baen, 9781416555865, 576pp.
Publication Date: September 30, 2008
Other Editions of This Title:
Hardcover (9/4/2007)
* Individual store prices may vary.
Description
1. John Ringo has over two million books in print.

2. He has written six New York Times best sellers.

3. The first novel in his Posleem War series, A Hymn Before Battle has an 81% sell through in mass market from October 2001 to date. Booklist called the novel, "practically impossible not to read in one sitting." Gust Front, the second novel in the series, has equally high sell throughs in both hardcover and mass market.

4. A veteran of the 82nd Airborne, Rindo brings military characters and their explosive battles to vivid, three-dimensional life.

5. Travis S. Taylor's science background and profound knowledge compliment Ringo's military realism with scientific realism, filling the novel with breakthroughs and theories from the frontiers of today's science, as he did in The Quantum Connection, praises by Publishers Weekly as "dazzling...cutting-edge scientific possibilities...stimulating and satisfying..."

6. Full-color brochure

7. Special kit mailing

8. Booksense mailing

9. Consumer advertising in Locus, Kliatt, more

10. Teaser chapter for Claws That Catch

11. Trade advertising

12. Special backlist discounts for John Ringo titles

The sequel to Into the Looking Glass. William Weaver, PhD. and SEAL Chief Miller are back and Bill got himself a ship! The former SSBN Nebraska has been converted, using mostly garage mechanics and baling wire, into a warp ship ready to go "out there." But as everyone knows, the people who really are going to bear the brunt are the poor Security guys, Force Recon Marines who are kept in the dark and fed manure all day. That is until they land on an alien planet, get partially wiped out and then load back up again.



Ranging in topics from the best gun to kill armored space monsters to particle physics to cosmology to health and beauty tips, Vorpal Blade is a return to the "good old days" of SF when the science problems were intractable and the beasts were ugly. The monkeys are out in the space lanes and ready to rock. As soon as they get another roll of duct tape.
About the Author
John Ringo is author of the New York Times best-selling Posleen War series which so far includes A Hymn Before Battle, Gust Front, When the Devil Dances, and Hell's Faire, as well as the connected novels Cally's War (with Julie Cochrane), The Hero (with Michael Z. Williamson), and Watch on the Rhine (with Tom Kratman), and is the hottest new science fiction writer since David Weber. A veteran of the 82nd Airborne, Ringo brings first-hand knowledge of military operations to his novels of high-tech future war.

Travis S. Taylor—"Doc" Taylor to his friends—has earned his soubriquet the hard way: He has a doctorate in optical science and engineering, a master's degree in physics, a master's degree in aerospace engineering, a master's degree in astronomy, and a bachelor's degree in electrical engineering. Dr. Taylor has worked on various programs for the Department of Defense and NASA for the past sixteen years. He's currently working on several advanced propulsion concepts, very large space telescopes, space-based beamed energy systems, and next generation space launch concepts. He lives in Harvest, AL with his wife Karen and their daughter.
or
Not Currently Available for Direct Purchase