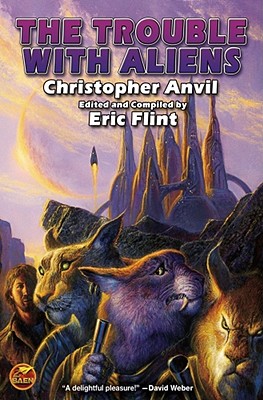 The Trouble with Aliens (Complete Christopher Anvil #4) (Mass Market)
Baen, 9781416556015, 624pp.
Publication Date: October 28, 2008
* Individual store prices may vary.
Description
1. The trade paperback edition of Anvil's Interstellar Patrol (04/03), was a Locus best seller, and has a sell through of 72% from April 2003 to date.

2. Like Keith Laumer, Anvil has a rare ability to combine fast-moving adventure with humor, deftly skewering the bureaucratic mind, whether human or alien.

3. Anyone who likes sardonic space adventure with a dash of satire will enjoy Christopher Anvil, such as readers of Eric Flint, Lois McMaster Bujold and Keith Laumer.

4. New York Times best-selling author David Weber calls Anvil's SF "a delightful pleasure," and adds, "I'm delighted that someone is making Christopher Anvil's work available once again...I've always loved Anvil's , ah, peculiar sense of humor."

5. Advertising in Locus, more

Humans on the space frontiers may have enough problems with befuddled bureaucrats, rules that don't fit the realities of very dangerous situations, and general rear-echelon incompetence without bringing in unfriendly aliens, but it's that kind of universe. On the other hand, as master satirist Christopher Anvil makes clear, the aliens are anything but omnipotent and have plenty of problems of their own.



Here for the first time the stories and short novels of the war with the Outs are collected into a novel-length chronicle. The Outs had mental powers they could use to make humans see illusions and convince them to change sides. Obviously, they were unbeatable—until some troublesome humans found their Achille's heel.



These and other stories of human/alien conflict fill this large volume by the master of wryly sardonic science fiction adventure.
About the Author
For two decades, Christopher Anvil had numerous stories in the leading science fiction magazines, and was a frequent and popular contributor to the leading magazine, Analog, where he consistently ranked high in the reader's polls, and had several stories nominated for Hugo and Nebula awards. Like Keith Laumer, he has a rare ability to combine fast-moving adventure with wry humor. His previous books for Baen were Pandora's Legions, Interstellar Patrol and Interstellar Patrol II: The Federation of Humanity.


or
Not Currently Available for Direct Purchase