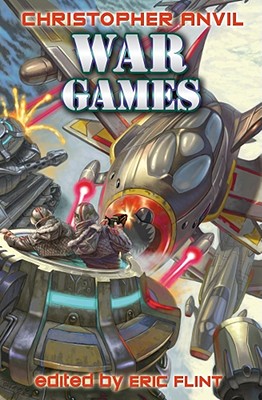 War Games (Complete Christopher Anvil #6)
Hardcover

* Individual store prices may vary.
Other Editions of This Title:
Mass Market (3/30/2010)
Description
1. The trade paperback edition of Anvil's Interstellar Patrol (04/03) was a Locus bestseller, with a strong sell through.

2. Like Keith Laumer, Anvil has a rare ability to combine fast-moving adventure with humor, deftly skewering the bureaucratic mind, whether human or alien.

3. New York Times best-selling author David Weber calls Anvil's SF "a delightful pleasure," and adds "I'm delighted that someone is making Christopher Anvil's work available once again. Especially the Interstellar Patrol stories...I've always loved Anvil's, ah, peculiar sense of humor."

4. Advertising in Locus, more

War is a serious business—or is it? Christopher Anvil turns his sardonic sense of humor loose on the subject and considers what might happen if:



· Someone devised a computer war game so realistic and addictive that the people in charge of battle on both sides didn't have the time or inclination to start a real war.

· Another device gave every homeowner the power to block off his property from any incursion, even by nuclear weapons.

· A secret organization pulls the plug on an impending war by causing the commanders on both sides to be unable even to think of any of the words they need to order their forces into action.

· And, in a full-length novel, The Steel, the Mist and the Blazing Sun, the devastation after World War III has not put an end to war—not as long as men survive who still want to conquer and dominate; nor as long as others will fight, not just to survive, but to defend freedom.



The many faces of war, examined by a master of science fiction adventure with a wryly humorous twist.
Baen, 9781416556022, 480pp.
Publication Date: December 2, 2008
About the Author
Eric Flint is a modern master of alternate history fiction, with three million books in print. He's the author/creator of the multiple New York Times best-selling Ring of Fire series, starting with first novel 1632. With David Drake he has written six popular novels in the "Belisarius" alternate Roman history series, and with David Weber he has collaborated on 1633 and 1634: The Baltic War, as well as four novels in Weber's Honorverse series. Flint was for many years a labor union activist. He lives near Chicago, Illinois.
or
Not Currently Available for Direct Purchase