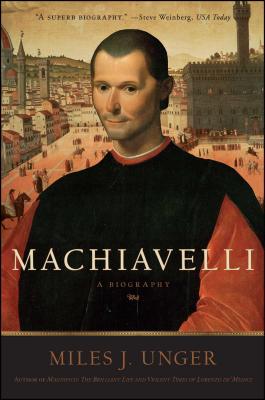 Machiavelli (Paperback)
A Biography
Simon & Schuster, 9781416556305, 416pp.
Publication Date: June 12, 2012
Other Editions of This Title:
Compact Disc (4/28/2020)
Hardcover (6/14/2011)
MP3 CD (4/28/2020)
* Individual store prices may vary.
Description
A "captivating biography of Italian philosopher and playwright"*—Niccolò Machiavelli, author of The Prince—whose writings have outraged and inspired generations of readers.

Niccolò Machiavelli is the most influential political writer of all time. His name has become synonymous with cynical scheming and the selfish pursuit of power, but the real Machiavelli, says Miles Unger, was a deeply humane and perceptive writer whose controversial theories were a response to the violence and corruption he saw around him.

Machiavelli's philosophy was shaped by the tumultuous age in which he lived, an age of towering geniuses and brutal tyrants. His first political mission was to spy on the fire-and-brimstone preacher Savonarola. He was on intimate terms with Leonardo and Michelangelo. As a diplomat, he matched wits with the corrupt Pope Alexander VI and his son, the infamous Cesare Borgia, whose violent career served as a model for The Prince. Analyzing their successes and failures, Machiavelli developed his revolutionary approach to power politics. His famous book is a guide that is based on the world as it is, not as it should be.

Miles Unger has relied on original Italian sources as well as his own deep knowledge of Florence in writing this fascinating and authoritative account of a genius whose work remains as relevant today as when he wrote it.
About the Author
Miles J. Unger writes on art, books, and culture for The Economist. Formerly the managing editor of Art New England, he was a contributing writer to The New York Times. He is the author of Picasso and the Painting That Shocked the World; The Watercolors of Winslow Homer; Magnifico: The Brilliant Life and Violent Times of Lorenzo de' Medici; Machiavelli: A Biography; and Michelangelo: A Life in Six Masterpieces. Visit MilesJunger.com.
Praise For Machiavelli: A Biography…
"This is a superb biography, of interest to anybody -- not just management consultants -- trying to get along in the contemporary world. . . . Unger is superb at providing context, so readers grasp how Machiavelli's thinking was received during his lifetime, how it has been interpreted/misinterpreted through the centuries, and how it offers meaning in the 21st century."
—Steve Weinberg, USA Today




"A thoughtful and well-informed study of the life of the Florentine diplomat and government bureaucrat. . . . Unger presents a side of the cynical and jaded diplomat rarely known by even those who had read Machiavelli's notorious collection of practical and often amoral advice to the prospective ruler."
—Karl Rove



"Unger skillfully narrates the details of a life led during one of the greatest periods of artistic, political, and literary activity in Western history. . . . [He] does a wonderful job of bringing Machiavelli to life."
—Alan Wolfe, The New Republic




"A captivating biography of Italian philosopher and playwright Niccolò Machiavelli. . . . Lively, well-researched portrait of a master political strategist."
—Kirkus Reviews



"An excellent analysis of the influential thinker and his renowned writings."
—Booklist




"Excellent. . . . wonderfully readable."
—Jessica Warner, National Post



"For most people, 'Machiavellian' means ruthless, the application of power without remorse. Thanks to a fascinating portrait by Miles J. Unger, the real Machiavelli comes across the centuries as something more: a man with whom many of us might like to spend a few hours in rich conversation."
—Repps Hudson, St. Louis Post-Disptach




"A wonderful biography. . . . Unger includes details you didn't hear in World History 101, details that make fascinating reading and should put the book on the list of any history buff."
—John Monaghan, The Providence Journal-Bulletin
or
Not Currently Available for Direct Purchase