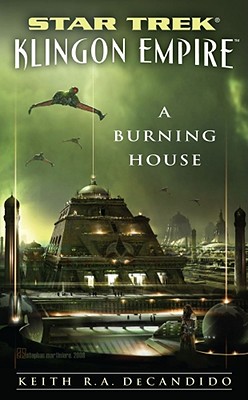 Star Trek (Mass Market)
The Next Generation: Klingon Empire: A Burning House
Pocket Books/Star Trek, 9781416556473, 416pp.
Publication Date: January 29, 2008
Other Editions of This Title:
Paperback (5/18/2019)
Paperback (5/2/2020)
Mass Market (9/25/2007)
Mass Market (1/27/2009)
Mass Market (10/1/2004)
* Individual store prices may vary.
Description
They have been the Federation's staunchest allies, and its fiercest adversaries. Cunning, ruthless, driven by an instinct for violence and defined by a complex code of honor, they must push ever outward in order to survive, defying the icy ravages of space with the fire of their hearts. They are the Klingons, and if you think you already know all there is to learn about them...think again.

From its highest echelons of power to the shocking depths of its lowest castes, from its savagely aggressive military to its humble farmers, from political machinations of galactic import to personal demons and family strife, the Klingon Empire is revealed as never before when the captain and crew of the I.K.S. Gorkon finally return to their homeworld of Qo'noS in a sweeping tale of intrigue, love, betrayal, and honor.
About the Author
Keith R.A. DeCandido was born and raised in New York City to a family of librarians. He has written over two dozen novels, as well as short stories, nonfiction, eBooks, and comic books, most of them in various media universes, among them Star Trek, World of Warcraft, Starcraft, Marvel Comics, Buffy the Vampire Slayer, Serenity, Resident Evil, Gene Roddenberry's Andromeda, Farscape, Xena, and Doctor Who. His original novel Dragon Precinct was published in 2004, and he's also edited several anthologies, among them the award-nominated Imaginings and two Star Trek anthologies. Keith is also a musician, having played percussion for the bands the Don't Quit Your Day Job Players, the Boogie Knights, and the Randy Bandits, as well as several solo acts. In what he laughingly calls his spare time, Keith follows the New York Yankees and practices kenshikai karate. He still lives in New York City with his girlfriend and two insane cats.
or
Not Currently Available for Direct Purchase