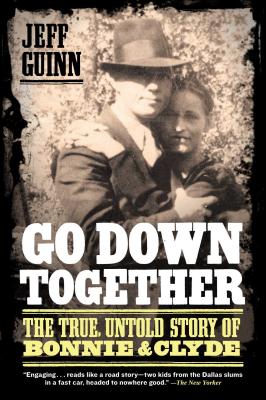 Go Down Together (Paperback)
The True, Untold Story of Bonnie and Clyde
Simon & Schuster, 9781416557074, 467pp.
Publication Date: March 9, 2010
* Individual store prices may vary.
Description
Bestselling author Jeff Guinn combines exhaustive research with surprising, newly discovered material to tell the real tale of two kids from a filthy Dallas slum who fell in love and then willingly traded their lives for a brief interlude of excitement and, more important, fame. Go Down Together has it all--true romance, rebellion against authority, bullets flying, cars crashing, and, in the end, a dramatic death at the hands of a celebrity lawman. This is the real story of Bonnie and Clyde and their troubled times, delivered with cinematic sweep by a masterful storyteller.
Praise For Go Down Together: The True, Untold Story of Bonnie and Clyde…
"Engaging. . . reads like a road story—two kids from the Dallas slums in a fast car, headed to nowhere good." 9 781416 557074 —The New Yorker

"A fine work of history. . . . Easily readable and includes much of the last

two decades' new scholarship. . . . Especially good at . . . placing Bonnie

and Clyde in context." —Bryan Burrough,

The New York Times Book Review

"A rollicking read, an astonishing story of perseverance in the face of hopelessness,

and a perverse tale of two lovers whom only death could part."

—Mark Dunkelman, The Providence Journal

"Guinn cuts through the sex and gunsmoke surrounding the gangster

love story of Bonnie and Clyde. . . . A welcome corrective."

—J. Lynn Lunsford, The Wall Street Journal

"Guinn has deftly restored the humanity of America's best known

crime couple, stripping away the Hollywood glamour and hype with

the unvarnished but equally compelling truth."

—Kathleen Krog, The Miami Herald