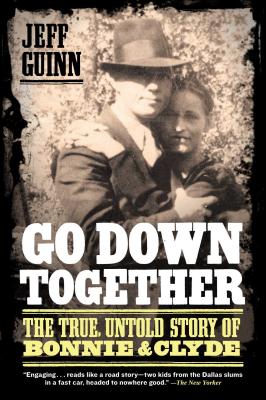 Go Down Together
The True, Untold Story of Bonnie and Clyde
Paperback

* Individual store prices may vary.
Other Editions of This Title:
Digital Audiobook (6/11/2009)
Description
Forget everything you think you know about Clyde Barrow and Bonnie Parker—previous books and films, including the brilliant 1967 movie starring Warren Beatty and Faye Dunaway, have emphasized the supposed glamour of America's most notorious criminal couple, thus contributing to ongoing mythology. The real story is completely different—and far more fascinating.

In Go Down Together: The True, Untold Story of Bonnie and Clyde, bestselling author Jeff Guinn combines exhaustive research with surprising, newly discovered material to tell the real tale of two kids from a filthy Dallas slum who fell in love and then willingly traded their lives for a brief interlude of excitement and, more important, fame. Their timing could not have been better—the Barrow Gang pulled its first heist in 1932 when most Americans, reeling from the Great Depression, were desperate for escapist entertainment. Thanks to newsreels, true crime magazines, and new-fangled wire services that transmitted scandalous photos of Bonnie smoking a cigar to every newspaper in the nation, the Barrow Gang members almost instantly became household names on a par with Charles Lindbergh, Jack Dempsey, and Babe Ruth. In the minds of the public, they were cool, calculating bandits who robbed banks and killed cops with equal impunity.

Nothing could have been further from the truth. Clyde and Bonnie were perhaps the most inept crooks ever, and their two-year crime spree was as much a reign of error as it was of terror. Lacking the sophistication to plot robberies of big-city banks, the Barrow Gang preyed mostly on small mom-and-pop groceries and service stations. Even at that, they often came up empty-handed and were reduced to breaking into gum machines for meal money. Both were crippled, Clyde from cutting off two of his toes while in prison and Bonnie from a terrible car crash caused by Clyde's reckless driving. Constantly on the run from the law, they lived like animals, camping out in their latest stolen car, bathing in creeks, and dining on cans of cold beans and Vienna sausages. Yet theirs was a genuine love story. Their devotion to each other was as real as their overblown reputation as criminal masterminds was not.

Go Down Together has it all—true romance, rebellion against authority, bullets flying, cars crashing, and, in the end, a dramatic death at the hands of a celebrity lawman hired to hunt them down. Thanks in great part to surviving Barrow and Parker family members and collectors of criminal memorabilia who provided Jeff Guinn with access to never-before-published material, we finally have the real story of Bonnie and Clyde and their troubled times, delivered with cinematic sweep and unprecedented insight by a masterful storyteller.
Praise For Go Down Together: The True, Untold Story of Bonnie and Clyde…
"Engaging. . . reads like a road story—two kids from the Dallas slums in a fast car, headed to nowhere good."

—The New Yorker

"A fine work of history. . . . Easily readable and includes much of the last
two decades' new scholarship. . . . Especially good at . . . placing Bonnie
and Clyde in context." —Bryan Burrough,
The New York Times Book Review

"A rollicking read, an astonishing story of perseverance in the face of hopelessness,
and a perverse tale of two lovers whom only death could part."
—Mark Dunkelman, The Providence Journal

"Guinn cuts through the sex and gunsmoke surrounding the gangster
love story of Bonnie and Clyde. . . . A welcome corrective."
—J. Lynn Lunsford, The Wall Street Journal

"Guinn has deftly restored the humanity of America's best known
crime couple, stripping away the Hollywood glamour and hype with
the unvarnished but equally compelling truth."
—Kathleen Krog, The Miami Herald
Simon & Schuster, 9781416557074, 480pp.
Publication Date: March 9, 2010
About the Author
Jeff Guinn is the bestselling author of numerous books, including Go Down Together, The Last Gunfight, Manson, The Road to Jonestown, War on the Border, and Waco. He lives in Fort Worth, Texas, and is a member of the Texas Literary Hall of Fame.