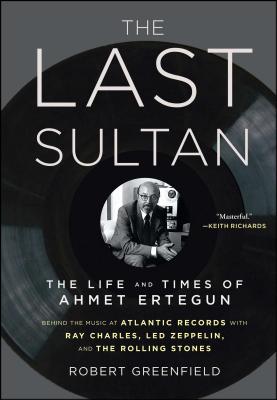 The Last Sultan
The Life and Times of Ahmet Ertegun
Paperback

* Individual store prices may vary.
Other Editions of This Title:
Digital Audiobook (11/20/2011)
MP3 CD (11/21/2011)
Compact Disc (11/21/2011)
Description
The definitive biography of Ahmet Ertegun—founder of Atlantic Records, the man behind stars from Ray Charles to the Rolling Stones.

Brilliant, cultured, brash, and irreverent, Ahmet Ertegun was a legend in the music world. Blessed with great taste and sharp business acumen, he founded Atlantic Records and brought rock 'n' roll into the mainstream. He quickly became as renowned for his incredible sense of style and nonstop A-list social life as for his pioneering work in the studio.

Ertegun discovered, signed, or recorded many of the greatest musical artists of all time, among them Ruth Brown; Ray Charles; Bobby Darin; Sonny and Cher; Eric Clapton; Buffalo Springfield; Crosby, Stills, Nash & Young; Led Zeppelin; and the Rolling Stones.

Ertegun lived grandly but was never happier than when he found himself in some down-and-out joint listening to music late at night. As colorful and compelling as its subject, The Last Sultan is the fascinating story of a man who always lived by his own rules.
Praise For The Last Sultan: The Life and Times of Ahmet Ertegun…
"Ahmet Ertegun was a man who loved his music and wanted others to hear what may otherwise have gone unheard. . . . We first met when the Stones signed up with Atlantic. The stories began to flow and a lot of them are in these pages. Robert Greenfield has done a masterful job of relating them. . . . I shall miss Ahmet. He was a great man and a great friend!"
—Keith Richards



"Ahmet Ertegun was a man of passion, loyalty, generosity and fun, both sacred and profane, who could target like a laser what was authentic and worthwhile in the many worlds he bestrode so seamlessly and successfully. Greenfield's fascinating biography, The Last Sultan, gets it right, and I envy readers their opportunity to experience the life and times of this extraordinary man."
—Henry Kissinger



"Robert Greenfield has written a loving, vividly detailed and utterly compelling history of one of the most fascinating lives of the twentieth century. Not only do you get an insider's account of the building of the record industry and the high times of the rock and roll circus, but of the worldly education of a young man in the diplomatic world of the European capitals and Washington D.C., and American high society in New York's modern heyday. The Last Sultan is the remarkable odyssey of a truly remarkable man."
—Jann Wenner, Editor, Publisher and Founder of Rolling Stone




"In many ways, this book is the Bible of rock 'n' roll. A sacred tale rooted in the incredible life journey of my friend Ahmet Ertegun who touched not only me but also so many other people in so many ways."
—Kid Rock




"I found Robert Greenfield's book on Bill Graham to be one of the best researched music business biographies ever. Now with The Last Sultan, he's topped himself. Ahmet Ertegun is not an easy subject—he was both indelible and opaque—but Greenfield has dug deeper than anyone ever has, to reveal one of the most complex Americans of the last half century."
—Taylor Hackford, Director/Producer of "Ray"



"An excellent biography of a titan in the music industry."
—Booklist (starred review)



"Mesmerizing, entertaining, informative. . . . There are a great many delicious stories in this page-turning work. . . . A vivid portrait of Ertegun but also a colorful panorama of the indie record-business during and after its rough-and-tumble years, when bootleggers sold as many singles as the real labels, gangsters were always angling to squeeze in on the action, and payola was just part of the cost of doing business."
—Tom Nolan, San Francisco Chronicle
Simon & Schuster, 9781416558408, 464pp.
Publication Date: November 6, 2012
About the Author
An award-winning journalist, novelist, playwright, screenwriter, and former associate editor of the London bureau of Rolling Stone, Robert Greenfield is the author of ten books of fiction and nonfiction, among them the classic STP: A Journey Through America With the Rolling Stones, and critically acclaimed biographies of Jerry Garcia, Timothy Leary, and Bill Graham.