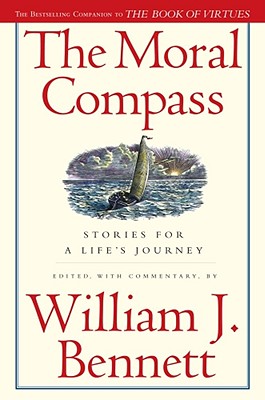 The Moral Compass
Stories for a Life's Journey
Paperback

* Individual store prices may vary.
Other Editions of This Title:
Digital Audiobook (11/30/1995)
Description
More than two million readers have used The Book of Virtues, the nationwide #1 bestseller by William J. Bennett, to help their families learn the essential traits of good character.

The Moral Compass, the inspiring and instructive companion volume to The Book of Virtues, offers many more examples of good and bad, right and wrong, in great works from literature and in exemplary stories from history. Organized by the stages along life's journey, these stories and poems serve as reference points on a moral compass, guiding the reader through the ethical and spiritual challenges along the pathway of life: leaving home, entering into marriage, easing the burdens of others, nurturing one's children, and fulfilling the obligations of citizenship and leadership.

Drawn from familiar Western history and mythology as well as a wide selection of tales and folklore from Asia, Africa, and Latin America, the stories in The Moral Compass are literary and evocative, designed to inspire as well as instruct. Complete with informative introductions and notes, The Moral Compass is an indispensable guide that will help family members meet the challenges of life at any age.
Simon & Schuster, 9781416558460, 832pp.
Publication Date: July 1, 2008
About the Author
William J. Bennett served as Director of the Office of National Drug Control Policy under President George H. W. Bush and as Secretary of Education and Chairman of the National Endowment for the Humanities under President Reagan. He holds a bachelor of arts degree in philosophy from Williams College, a doctorate in political philosophy from the University of Texas, and a law degree from Harvard. He is the author of such bestselling books as The Educated Child, The Death of Outrage, The Book of Virtues, and the two-volume series America: The Last Best Hope. Dr. Bennett is the former host of the nationally syndicated radio show Bill Bennett's Morning in America and the current host of the popular podcast, The Bill Bennett Show. He is also the Washington Fellow of the Claremont Institute and a regular contributor to CNN. He, his wife, Elayne, and their two sons, John and Joseph, live in Maryland.