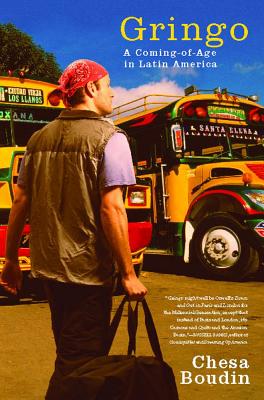 Gringo
A Coming of Age in Latin America
Paperback

* Individual store prices may vary.
Other Editions of This Title:
Hardcover (4/14/2009)
Praise For Gringo: A Coming of Age in Latin America…
"Gringo might well be Orwell's Down and Out in Paris and London for the Millennial Generation, except that instead of Paris and London, it's Caracas and Quito and the Amazon Basin." -- Russell Banks, author of Cloudsplitter and Dreaming Up America



"In Gringo, Chesa Boudin takes us on a delightfully engaging trip through Latin America, in an ingenious combination of memoir and commentary. The personal story is unflinchingly honest, and the political judgments nuanced and thoughtful. Latin America is at the outer edge of consciousness in this country, and Chesa Boudin brings it back to our attention, eloquently and vigorously." -- Howard Zinn



"This marvelous voyage of personal discovery provides a vivid portrait of the richness and diversity of Latin America, its wonders and suffering, the courage and irrepressible spirit of its people, as they are revealed to a thoughtful and sensitive eye during the most exciting and hopeful decade since the European conquests. It is an enthralling account, stimulating and provocative." -- Noam Chomsky



"This superb travel memoir has the benefit of an appealingly honest, intelligent, and reliable narrator, whose humorous self-scrutiny and compassionate insights bridge two worlds with extraordinary tact. I found it engrossing, moving, and compulsively readable." -- Phillip Lopate



"Boudin has a pitch-perfect ear for the cadences that make up daily life in a region grappling with change. More than a well-written and clear-eyed guide to the efforts of yet another generation of Latin American leaders and activists trying to chart their own way, it's a handbook for estadounidenses on how to listen to and learn from those below the Rio Grande who also call themselves Americans." -- Greg Grandin, author of Empire's Workshop



"A compelling firsthand account of the unregulated greed, social neglect, and deliberate misrule that has provoked so many Latin Americans to demand a better life for themselves and their children. Boudin's vivid reports are filled with memorable characters whose stories capture the tragedies and the promise of this vast region." -- John H. Coatsworth, director, Institute of Latin American Studies, Columbia University



"This is not Latin American for Yuppies, which shouldn't be much of a surprise, knowing the lineage. It's cheap beer, fried plantains, long dusty bus rides, radical politics, the repeated kindness of desperately poor people sharing what they have with an outsider, and Chesa Boudin's eagerness to share what he's seeing and what he's feeling, with sympathy and empathy -- as he tries to sort it all out. There's much to learn in this book." -- Seymour Hersh, the New Yorker
Scribner, 9781416559122, 240pp.
Publication Date: February 16, 2013