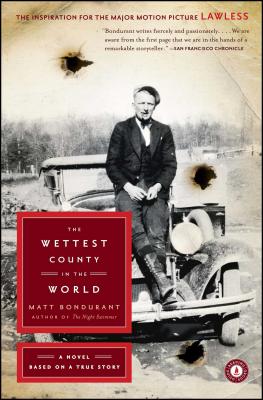 The Wettest County in the World
A Novel Based on a True Story
Paperback

* Individual store prices may vary.
Other Editions of This Title:
Paperback (9/11/2012)
Hardcover (10/14/2008)
Compact Disc (8/7/2012)
MP3 CD (10/7/2008)
Paperback (8/16/2012)
Hardcover, Large Print, Large Print (2/1/2009)
November 2008 Indie Next List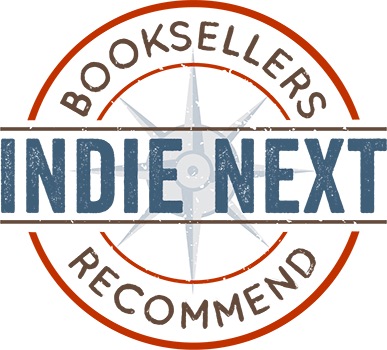 "I loved this book -- an effective symbiosis of style, substance, and narrative technique. The novel absorbs the reader into its riveting account of the 1920s and 1930s Virginia moonshine trade and offers a fascinating perspective of American history. I was immersed from beginning to end."
— Kristin Kirkham, The university book store, Madison, WI
View the List
Description
Based on the true story of Matt Bondurant's grandfather and two granduncles, The Wettest County in the World is a gripping tale of brotherhood, greed, and murder. The Bondurant Boys were a notorious gang of roughnecks and moonshiners who ran liquor through Franklin County, Virginia, during Prohibition and in the years after. Howard, the eldest brother, is an ox of a man besieged by the horrors he witnessed in the Great War; Forrest, the middle brother, is fierce, mythically indestructible, and the consummate businessman; and Jack, the youngest, has a taste for luxury and a dream to get out of Franklin. Driven and haunted, these men forge a business, fall in love, and struggle to stay afloat as they watch their family die, their father's business fail, and the world they know crumble beneath the Depression and drought.
White mule, white lightning, firewater, popskull, wild cat, stump whiskey, or rotgut—whatever you called it, Franklin County was awash in moonshine in the 1920s. When Sherwood Anderson, the journalist and author of Winesburg, Ohio, was covering a story there, he christened it the "wettest county in the world." In the twilight of his career, Anderson finds himself driving along dusty red roads trying to find the Bondurant brothers, piece together the clues linking them to "The Great Franklin County Moonshine Conspiracy," and break open the silence that shrouds Franklin County.
In vivid, muscular prose, Matt Bondurant brings these men—their dark deeds, their long silences, their deep desires—to life. His understanding of the passion, violence, and desperation at the center of this world is both heartbreaking and magnificent.


Praise For The Wettest County in the World: A Novel Based on a True Story…
"Bondurant tells a distinctively American story. The gritty, suspenseful narrative gripped me and wouldn't let me go. It also touched my heart in all the right ways. Matt Bondurant's writing is as full of beauty as it is of verve and grit. Thank God it's legal to write so well." -- Lee Martin, author of River of Heaven and The Bright Forever

"In his scintillating new novel, Matt Bondurant explores a crucial period in the history of Virginia and of his family. His gorgeous, precise prose brings to life an amazing cast of characters, including Sherwood Anderson, and the often deadly battles of Prohibition. The Wettest County in the World is a remarkably compelling, highly intelligent, and deeply moving novel." -- Margot Livesey, author of The House on Fortune Street and Eva Moves the Furniture

"Bondurant endows this gritty story with all the puzzle-solving satisfactions of a mystery. It's a gripping, relentless tale, delivered in no-nonsense prose." -- Publishers Weekly (starred review)

"Interweaving the bleak portraits of Walker Evans, the charged landscapes of Annie Dillard, and the breakneck plotting of Cormac McCarthy, Matt Bondurant mines his own family history to offer a novel that's both a gritty, fast-paced tale of bootleggers and car chases and a timeless hard-knock ballad, a myth fixed in the amber of one small community's imagination. The Wettest County in the World is a suspense story dashed to tintype smithereens, each one a jewel." -- Elis Avery, author of The Teahouse Fire

"Brilliantly conceived, and so close to home, this novel proves Matt Bondurant's burgeoning talent -- a book for thirsty American readers to guzzle down, a book for all young American writers to admire." -- Alan Cheuse, author of The Fires

"Bondurant writes fiercely and passionately. Severe violence, thrillingly rendered, pervades this book, which will remind readers of hard-hitting Southern writers such as Cormac McCarthy and Larry Brown. ....The story Bondurant has to tell is riveting, detailed and historical. His knowledge of Southern culture is as deep as his ancestors' knowledge of making whiskey. We are aware from the first page that we are in the hands of a remarkable storyteller." -- San Francisco Chronicle

"Bondurant is a nimble writer, especially when it comes to depicting gore and guts. His descriptions of the warped and wounded (a man lying in a hospital bed with "skin blanched like boiled meat; the bedding stained with a yellowish fluid" can leave a reader queasy, but the liveliness of his writing makes it hard for even the most lily-livered to look away.....Bondurant's prose is lyrical.......who can deny the power of a narrative so deeply rooted in childhood imaginings, when a mild and quiet grandfather hung those brass knuckles on the wall?" -- New York Times Book Review
Scribner, 9781416561408, 320pp.
Publication Date: December 29, 2009
About the Author
Matt Bondurant is the author of three novels, the most recent of which is The Night Swimmer. Lawless—previously published as The Wettest County in the World—was a New York Times Editors' Choice, and one of the San Francisco Chronicle's 50 Best Books of the Year. His first novel, The Third Translation, was an international bestseller, translated into fourteen languages worldwide. He currently teaches literature and writing in the Arts and Humanities graduate program at the University of Texas at Dallas.