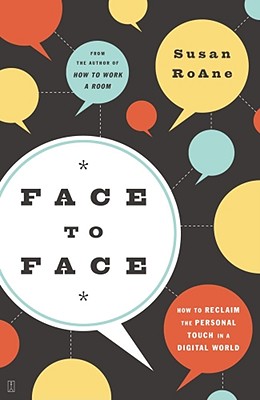 Face to Face (Paperback)
How to Reclaim the Personal Touch in a Digital World
Touchstone, 9781416561422, 288pp.
Publication Date: October 7, 2008
* Individual store prices may vary.
Description
E-mail, texting, BlackBerry, MySpace: more and more, technology dominates our communication. We are often tuning out those around us -- to the point of e-mailing the person at the next desk or surreptitiously checking our BlackBerrys during a meeting.

Bestselling author, communications expert, and popular keynote speaker Susan RoAne shows that face to face encounters are still paramount to both career and personal success. For those attached to their gadgets, gizmos, and Google, RoAne explains how technology should enhance, not envelop their lives. Whether it's handling office politics, turning small talk into BIG TALK, finding a mentor, or conducting successful business deals over meals, RoAne offers tips to interact and connect with comfort and confidence in shared social space.

Practical and eminently readable, Face to Face belongs in every handbag or briefcase to help today's professionals succeed in the workplace and the public space.
About the Author
Susan RoAne is a bestselling author, an in-demand keynote speaker, and a communications coach. She has shared her strategies with audiences in corporate, convention, and university America as well as on radio and television around the world. Susan has been featured in The Wall Street Journal, USA TODAY, The New York Times, Cosmopolitan, The Financial Times of London, msn.com, and businessweek.com. She is the author of four books, including The Secrets of Savvy Networking, What Do I Say Next?, and How To Create Your Own Luck. Susan lives in the San Francisco Bay Area.
Praise For Face to Face: How to Reclaim the Personal Touch in a Digital World…
"Face to Face belongs on every bookshelf, desk and nightstand. Once again, Susan RoAne provides a savvy blueprint that is essential, practical, and smart. The information is timely, the stories are real and the advice is sage and useful in today's techno-centric world." -Connie Glaser, bestselling author of GenderTalk Works: 7 Steps for Cracking the Gender Code at Work

"Susan's advice guarantees that you'll never fear talking to strangers. Whether at an industry conference, a business lunch or an Internet chat room, her book teaches all of us how to bring our personal touch as we connect in meaningful and memorable ways." -Tory Johnson, CEO of Women For Hire

"I'm all about practical, usable advice that works. This book delivers. People do business with people and Susan teaches you how to do that better!" -- Larry Winget, New York Times bestselling author of You're Broke Because You Want To Be

"Face To Face is a soothing remedy for a world infected with digital distractions. In every chapter -- indeed, on nearly every page -- you'll find smart tips for reconnecting and reengaging with the human side of business." -- Daniel H. Pink, author of A Whole New Mind and The Adventures Of Johnny Bunko

"Thank you, Susan, for giving us a book that combines intelligence and charm to remind us that, despite our digital devices and technology time savers, at the end of the day we're still just people who need other people. Nothing is more valuable in creating successful business and personal relationships than the face-to-face experience. And Susan has shown us how to do it with grace and style." -- Robin Koval, President, The Kaplan Thaler Group and co-author of Bang! Getting Your Message Heard in a Noisy World and The Power of Nice: How to Conquer the Business World with Kindness
or
Not Currently Available for Direct Purchase