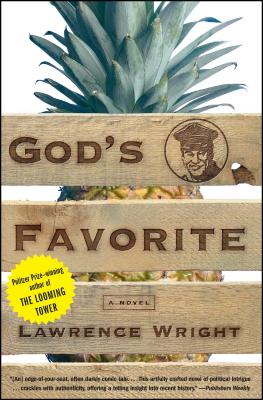 God's Favorite (Paperback)
A Novel
Simon & Schuster, 9781416562474, 352pp.
Publication Date: July 17, 2007
* Individual store prices may vary.
Description
In this fascinating work of historical fiction, Pulitzer Prize -- winning author Lawrence Wright captures all the gripping drama and black humor of Panama during the final, nerve-racking days of its legendary dictator, Manuel Antonio Noriega.

It is Christmas 1989, and Tony Noriega's demons are finally beginning to catch up with him. A former friend of President Bush, Fidel Castro, and Oliver North, this universally reviled strongman is on the run from the U.S. Congress, the Justice Department, the Colombian mob, and a host of political rivals. In his desperation, he seeks salvation from any and all quarters -- God, Satan, a voodoo priest, even the spirits of his murdered enemies. But with a million-dollar price on his head and 20,000 American soldiers on his trail, Noriega is fast running out of options.

Drawn from a historical record more dramatic than even the most artful spy novel, God's Favorite is a riveting and darkly comic fictional account of the events that occurred in Panama from 1985 to the dictator's capture in 1989. With an award-winning journalist's eye for detail, Lawrence Wright leads the reader toward a dramatic face-off in the Vatican embassy, where Noriega confronts his psychological match in the papal nuncio.
About the Author
Lawrence Wright is a staff writer for The New Yorker and a fellow at the Center on Law and Security at New York University School of Law. The author of six works of nonfiction, including the Pulitzer Prize-winning The Looming Tower: Al-Qaeda and the Road to 9/11, he lives in Austin, Texas.
Praise For God's Favorite: A Novel…
"Savvy and bleakly comic....A vigorous full-dress satiric farce that neatly skewers the self-righteous mendacity of all the Americas, ours very much included. The wittiest political novel we've seen in some time."

-- Kirkus Reviews

"Wright is a gifted journalist who paints his characters in vivid pictures with just the right details for each."

-- Lawrence R. Collins Jr., Houston Chronicle

"Brilliantly fictionalizes Noriega's fall from grace."

-- Texas Monthly

"A deliriously weird portrait of General Manuel Antonio Noriega...[as] both crazed and oddly sympathetic, a kind of Central American Tony Soprano."

-- The New Yorker

"[An] edge-of-your-seat, often darkly comic tale....This artfully crafted novel of political intrigue...crackles with authenticity, offering a telling insight into recent history."

-- Publishers Weekly