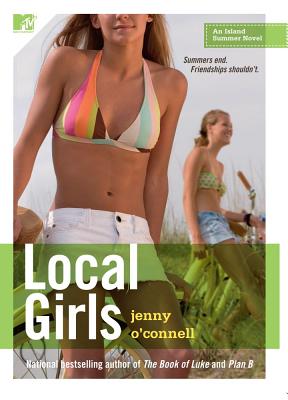 Local Girls (Paperback)
An Island Summer Novel
MTV Books, 9781416563358, 320pp.
Publication Date: June 24, 2008
* Individual store prices may vary.
Description

There are two kinds of people on the island -- those who leave at summer's end...and those who are left behind.

Kendra and Mona are best friends, local girls who spend their summers catering to rich tourists and the rest of the year chafing against small-town life. Then Mona's mom marries one of the island's rich summer visitors, and Mona joins the world of the Boston elite, leaving Kendra and Martha's Vineyard behind. When Mona returns the following summer, everything is different. Now Mona spends her days sunbathing with her private-school friends, while Kendra works at The Willow Inn -- a job she and Mona once hoped to do together.

Unlike his sister, Mona's twin brother Henry hasn't changed. He's spending his summer the way he always has: with long, quiet hours fishing. Early mornings before work become special for Kendra as she starts sharing them with Henry, hoping he can help her figure Mona out. Then Kendra hatches a plan to prove she's Mona's one true friend. She'll uncover the identity of the twins' birth father, a question that has always obsessed Mona. And so she sets out to unravel the seventeen-year-old mystery of the summer boy who charmed Mona's mother. But are some secrets better off staying buried?
About the Author
Jenny O'Connell is the author of eleven books, including the nationally bestselling Plan B. She lives outside Boston. Visit her website a JennyOConnell.com.
or
Not Currently Available for Direct Purchase