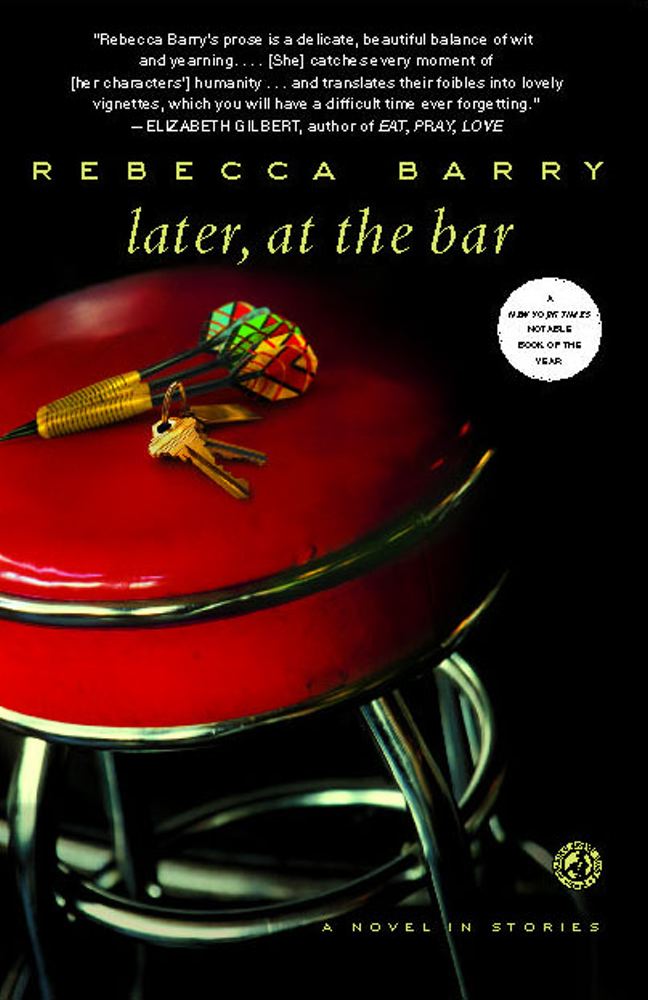 Later, at the Bar
A Novel in Stories
Paperback

* Individual store prices may vary.
Description
Lucy's Tavern is the best kind of small-town bar. It has a good jukebox, a bartender with a generous pour, and it's always open, even in terrible weather. In the raw and beautiful country that makes up Rebecca Barry's fictional landscape, Lucy's is where everyone ends up, whether they mean to or not.

There's the tipsy advice columnist who has a hard time following her own advice, the ex-con who falls for the same woman over and over again, and the soup-maker who tries to drink and cook his way out of romantic despair. Theirs are the kinds of stories about love and life that unfold late in the evening, when people finally share their secret hopes and frailties, because they know you will forgive them, or maybe make out with them for a little while. In this rich and engaging debut, each central character suffers a sobering moment of clarity in which the beauty and sadness of life is revealed. But the character does not cry or mend his ways. Instead he tips back his hat, lights another unfiltered cigarette, and heads across the floor to ask someone to dance.

A poignant exploration of the sometimes tender, sometimes deeply funny ways people try to connect, Later, at the Bar is as warm and inviting as a good shot of whiskey on a cold winter night.
Praise For Later, at the Bar: A Novel in Stories…
"Rebecca Barry's prose is a delicate, beautiful balance of wit and yearning. She is an artist of the everyday heartbreak, gently moving her brave characters through their lives, watching over them with concern as they (sometimes comically, sometimes tragically) cope with the infinite expressions of desire and longing that ache within their souls. Rebecca Barry catches every moment of their humanity, absolutely forgives them their inherent contradictions and translates their foibles into lovely vignettes, which you will have a difficult time ever forgetting." --Elizabeth Gilbert, author of Eat, Pray, Love

"There is a kind of magic that happens at the right bar, with the right people, at the right time of night. A certain song comes on the jukebox, the bartender starts to sing, and two people wobble off their stools, lean into each other, and begin to sway. For a moment, it feels like the center of the world. Later, At the Bar is seasoned with characters who live for this kind of magic; who love hard and drink harder. Rebecca Barry skillfully weaves together their stories as if she is making her way through a room full of friends, then finds you a seat at the bar, leans over, and spills all of their secrets. They are full of heartache and hope, and you will want to stay with them, until everyone puts down their drinks and starts to dance." --Hannah Tinti, author of Animal Crackers

"Those down-and-out and never-were, those bushwhacked by want, those haunted by hooch, those pining for an imagined past and about to charge into public square to howl at heaven, these are the men and women who people Later, At the Bar, Rebecca Barry's movingly splendid first novel, a book as much about what mends as what rends. Clearly, Ms. Barry loves our crooked kind, for she's given us story-telling to hope with, page after page of our analogues taking punch after punch at what cheapens and trivializes and corrupts. Here's a novel to press on your pals, your neighbors, even the strangers you bump into on your own way to paradise." --Lee K. Abbott, author of All Things, All at Once: New and Selected Stories

"Rebecca Barry's debut is a sheer delight. These stories are delicate, smart, touching, and hilarious, and they move through the life of a small town the way life moves through us. Barry is a wonderful writer, graceful, quick, and compassionate."

-- Roxana Robinson, author of A Perfect Stranger and Other Stories

"[A] marvelous debut work of fiction...Later, At the Bar is funny, fast, and addictive. It is an intoxicating book, beginning to end. Barry's characters are so smart, hilarious, and real that one can't help being utterly seduced by them and what their lives teach us about 'the rough and beautiful ways people carried their loneliness.'...Read this book."
--Danielle Trussoni, The New York Times Book Review
Simon & Schuster, 9781416563402, 224pp.
Publication Date: May 20, 2008
About the Author
Rebecca Barry is the bestselling author of Recipes for a Beautiful Life: A Memoir in Stories and Later, at the Bar: A Novel in Stories, which was a New York Times Notable Book. Her nonfiction has appeared in numerous publications, including The New York Times Book Review, The Washington Post Magazine, Seventeen, Real Simple, Food and Wine, Saveur, More, O, The Oprah Magazine, Hallmark, and The Best American Travel Writing 2003. Her fiction has appeared in Ploughshares, One Story, Tin House, Ecotone, The Mid-American Review, Best New American Voices 2005, and was shortlisted in Best American Short Stories 2000, 2004, and 2009. She is also a writing coach, and cofounder of the magazine Fresh Dirt.
or
Not Currently Available for Direct Purchase