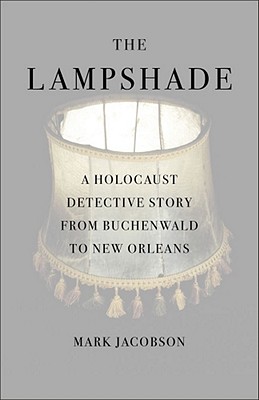 The Lampshade
A Holocaust Detective Story from Buchenwald to New Orleans
Hardcover

* Individual store prices may vary.
Other Editions of This Title:
Digital Audiobook (9/13/2010)
Paperback (4/19/2011)
MP3 CD (9/14/2010)
Compact Disc (9/14/2010)
Compact Disc (9/14/2010)
Compact Disc (9/14/2010)
MP3 CD (9/14/2010)
Description
Few growing up in the aftermath of World War II will ever forget the horrifying reports that Nazi concentration camp doctors had removed the skin of prisoners to makes common, everyday lampshades. In The Lampshade, bestselling journalist Mark Jacobson tells the story of how he came into possession of one of these awful objects, and of his search to establish the origin, and larger meaning, of what can only be described as an icon of terror.

Jacobson's mind-bending historical, moral, and philosophical journey into the recent past and his own soul begins in Hurricane Katrina–ravaged New Orleans. It is only months after the storm, with America's most romantic city still in tatters, when Skip Henderson, an old friend of Jacobson's, purchases an item at a rummage sale: a very strange looking and oddly textured lampshade. When he asks what it's made of, the seller, a man covered with jailhouse tattoos, replies, "That's made from the skin of Jews." The price: $35. A few days later, Henderson sends the lampshade to Jacobson, saying, "You're the journalist, you find out what it is." The lampshade couldn't possibly be real, could it? But it is. DNA analysis proves it.

This revelation sends Jacobson halfway around the world, to Yad Vashem in Jerusalem and to the Buchenwald concentration camp in Germany, where the lampshades were supposedly made on the order of the infamous "Bitch of Buchenwald," Ilse Koch. From the time he grew up in Queens, New York, in the 1950s, Jacobson has heard stories about the human skin lampshade and knew it to be the ultimate symbol of Nazi cruelty. Now he has one of these things in his house with a DNA report to prove it, and almost everything he finds out about it is contradictory, mysterious, shot through with legend and specious information.

Through interviews with forensic experts, famous Holocaust scholars (and deniers), Buchenwald survivors and liberators, and New Orleans thieves and cops, Jacobson gradually comes to see the lampshade as a ghostly illuminator of his own existential status as a Jew, and to understand exactly what that means in the context of human responsibility.

One question looms as his search goes on: what to do with the lampshade—this unsettling thing that used to be someone? It is a difficult dilemma to be sure, but far from the last one, since once a lampshade of human skin enters your life, it is very, very hard to forget.
Praise For The Lampshade: A Holocaust Detective Story from Buchenwald to New Orleans…
"Antic, improbable and resonant … When you put it down, you look forward to picking it up again." —Dwight Gardiner, The New York Times

"This books is equal parts fascinating and unnerving. Mark Jacobson takes us on an eerie detective trail as he traces down the origins of a lampshade bought in New Orleans just after the hurricane. It's gripping and deeply philosophical." --Walter Isaacson, author of American Sketches and Einstein

"Provocative....A well-executed, original reflection on how social evil tends to endure, puzzle and resist efforts at redemption." --Kirkus

"Fascinating and frequently unsettling....Journalist Jacobson avoids sensationalizing this inherently sensational story.... A chilling reminder that the aftereffects of World War II and the Holocaust continue to be felt, even in the most unlikely of ways." — David Pitt, Booklist

"A disquieting yet utterly fascinating account, artfully told, studded with characters that would have been impossible to invent. Although you don't always know where Jacobson is taking you on this weird and wondrous ride, you're never sorry that you climbed aboard." --Jon Krakauer, author of Into Thin Air and Where Men Win Glory

"God only makes a few genius reporters, and even in that small company, Mark Jacobson is one of a kind. He can follow his nose so deep into a story that every page is a surprise. At the end of The Lampshade, there is a big surprise: all that weirdness has begun to make sense. Of course, by that time, your vision is broader; you've been seeing the world through his eyes." --Richard Ben Cramer, author of What It Takes, and Joe DiMaggio: The Hero's Life
Simon & Schuster, 9781416566274, 368pp.
Publication Date: September 14, 2010
or
Not Currently Available for Direct Purchase