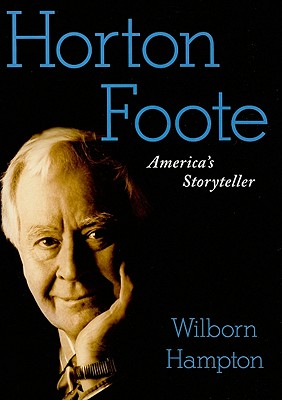 Horton Foote (Hardcover)
America's Storyteller
Free Press, 9781416566403, 304pp.
Publication Date: September 8, 2009
Other Editions of This Title:
Paperback (3/1/2011)
* Individual store prices may vary.
Description

The first comprehensive biography of one of America's greatest playwrights, whose work--from The Trip to Bountiful to the film adaptation of To Kill a Mockingbird--has helped shape American life for more than sixty years.

Horton Foote has garnered a Pulitzer Prize and two Academy Awards. Frank Rich, the drama critic for The New York Times, hailed him as "one of America's living literary wonders," an artist whose subtlety "suggests a collaboration between Faulkner and Chekhov." His work has touched millions and captured the soul of the nation more incisively than any other playwright, yet Horton Foote's own story is largely unknown to the general public. Wilborn Hampton, a theater critic for The New York Times who has shared a friendship with Foote for twenty years, has crafted a colorful, compulsively readable biography that recounts Foote's rich life and extraordinary career, spanning much of the twentieth century and the beginning of the twenty-first, and ranging from small-town Texas to Broadway to Hollywood. For six decades, through works such as Tender Mercies and The Young Man from Atlanta, Foote has chronicled the struggles of ordinary people to maintain their dignity in the face of hardship and change. Today, in his nineties, he is still vital and productive. Hampton affords readers a unique view into his subject's life and work, his artistic inspirations, and his commitment to portraying American life as he saw it, even at times when no one would listen. Candid and compelling, this is a window into the heart and mind of an extraordinary talent, and into the psyche of America itself.
About the Author
Wilborn Hampton is a theater critic for The New York Times. Over the past twenty years, he has reviewed more than 500 stage productions, and he has also published several Young Adult nonfiction books. He lives in New York City.
or
Not Currently Available for Direct Purchase