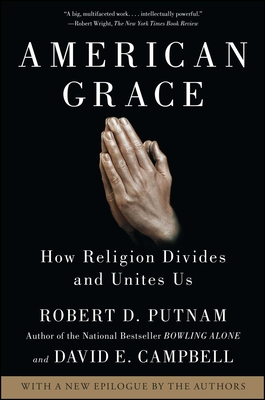 American Grace (Paperback)
How Religion Divides and Unites Us
Simon & Schuster, 9781416566731, 720pp.
Publication Date: February 21, 2012
Other Editions of This Title:
Hardcover (10/5/2010)
* Individual store prices may vary.
Description
American Grace is "perhaps the most sweeping look yet at contemporary American religion. It lays out the broad trends of the past fifty years, assesses their sociological causes, and then does a bit of fortune-telling" (The Washington Post).

Unique among nations, America is deeply religious, religiously diverse, and remarkably tolerant. In recent decades, however, the nation's religious landscape has undergone several seismic shocks. American Grace is an authoritative, fascinating examination of what precipitated these changes and the role that religion plays in contemporary American society.

Although there is growing polarization between religious conservatives and secular liberals today, at the same time personal interfaith ties are strengthening. Interfaith marriage has increased, and religious identities have become more fluid. More people than ever are friendly with someone of a different faith or no faith at all. Putnam and Campbell show how this denser web of personal ties brings greater interfaith tolerance, despite the so-called culture wars.

Based on two of the most comprehensive surveys ever conducted on religion and public life in America (and with a new epilogue based on a third survey), American Grace is an indispensable book about American religious life, essential for understanding our nation today.
About the Author
Robert D. Putnam is the Malkin Research Professor of Public Policy at Harvard University and a former Dean of the John F. Kennedy School of Government. Nationally honored as a leading humanist and a renowned scientist, he has written fourteen books, including the bestselling Our Kids and Bowling Alone, and has consulted for the last four US Presidents. In 2012, President Obama awarded him the National Humanities Medal, the nation's highest honor for contributions to the humanities. His research program, the Saguaro Seminar, is dedicated to fostering civic engagement in America. Visit RobertDPutnam.com.

David E. Campbell is the John Cardinal O'Hara, C.S.C. Associate Professor of Political Science at the University of Notre Dame as well as a research fellow with the Institute for Educational Initiatives. He is the author, coauthor, or editor of several books, and his work has also appeared in the Journal of Politics, Public Opinion Quarterly, and the Journal for the Scientific Study of Religion. He lives near South Bend, Indiana.
Praise For American Grace: How Religion Divides and Unites Us…
"[A] finely-grained and judicious study, sure to become a classic work of social analysis. . . . Riveting and sometimes disconcerting insights into the ways religion shapes and is shaped by the political and social currents of American life."
—Foreign Affairs