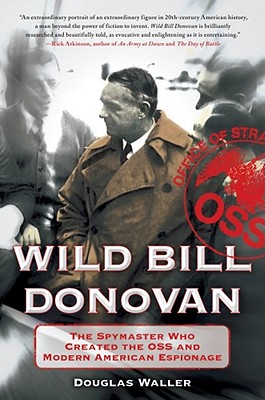 Wild Bill Donovan (Hardcover)
The Spymaster Who Created the OSS and Modern American Espionage
Free Press, 9781416567448, 480pp.
Publication Date: February 8, 2011
* Individual store prices may vary.
Description
He was one of America's most exciting and secretive generals--the man Franklin Roosevelt made his top spy in World War II. A mythic figure whose legacy is still intensely debated, "Wild Bill" Donovan was director of the Office of Strategic Services (the country's first national intelligence agency) and the father of today's CIA. Donovan introduced the nation to the dark arts of covert warfare on a scale it had never seen before. Now, veteran journalist Douglas Waller has mined government and private archives throughout the United States and England, drawn on thousands of pages of recently declassified documents, and interviewed scores of Donovan's relatives, friends, and associates to produce a riveting biography of one of the most powerful men in modern espionage. William Joseph Donovan's life was packed with personal drama. The son of poor Irish Catholic parents, he married into Protestant wealth and fought heroically in World War I, where he earned the nickname "Wild Bill" for his intense leadership and the Medal of Honor for his heroism. After the war he made millions as a Republican lawyer on Wall Street until FDR, a Democrat, tapped him to be his strategic intelligence chief. A charismatic leader, Donovan was revered by his secret agents. Yet at times he was reckless--risking his life unnecessarily in war zones, engaging in extramarital affairs that became fodder for his political enemies--and he endured heartbreaking tragedy when family members died at young ages. Wild Bill Donovan reads like an action-packed spy thriller, with stories of daring young men and women in his OSS sneaking behind enemy lines for sabotage, breaking into Washington embassies to steal secrets, plotting to topple Adolf Hitler, and suffering brutal torture or death when they were captured by the Gestapo. It is also a tale of political intrigue, of infighting at the highest levels of government, of powerful men pitted against one another. Donovan fought enemies at home as often as the Axis abroad. Generals in the Pentagon plotted against him. J. Edgar Hoover had FBI agents dig up dirt on him. Donovan stole secrets from the Soviets before the dawn of the Cold War and had intense battles with Winston Churchill and British spy chiefs over foreign turf. Separating fact from fiction, Waller investigates the successes and the occasional spectacular failures of Donovan's intelligence career. It makes for a gripping and revealing portrait of this most controversial spymaster.
Praise For Wild Bill Donovan: The Spymaster Who Created the OSS and Modern American Espionage…
"Entertaining history...As [Waller] amply shows, Donovan was a combination of bold innovator and imprudent rule bender, which made him not only a remarkable wartime leader but also an extraordinary figure in American history."--The New York Times Book Review



"Contemporary history is seldom as relevant and engaging as Douglas Waller's new biography, Wild Bill Donovan: The Spymaster Who Created the OSS and Modern American Espionage, which is -- by turns -- fascinatingly instructive and thoroughly entertaining." --L.A. Times



"Wild Bill Donovan, the founding father of American espionage, jumps off the page in Douglas Waller's superb biography of one of the nation's most important and least understood leaders of the 20th Century. Waller marvelously evokes an era when a matinee-idol character like Donovan could turn Washington into his own secret playground even as he ended America's naivete about the necessity of stealing the secrets of other gentlemen. Waller takes us back to a time, long before bureaucratic sclerosis set in at the Central Intelligence Agency, when American spies lived in technicolor."
-- James Risen, author of State of War: The Secret History of the CIA and the Bush Administration



"Whether fighting on the battlefield during World War I, leading the OSS during World War II, or prosecuting Nazi war criminals at Nuremberg, William Donovan's service to his country was historic and extraordinary. In Wild Bill Donovan, Douglas C. Waller's impressive research and riveting writing bring the 'Father of American Intelligence' to life, drawing the reader into one of the most thrilling and remarkable periods in American history."
--Lee H. Hamilton, former Chairman, House Permanent Select Committee on Intelligence



"This superb, dramatic yet scholarly biography, tells a great deal about the man who built a far-flung intelligence organization from scratch in the midst of World War II." --The Washington Post



"In this fast-paced, entertaining and engrossing biography, the author delivers a portrait of a hard-driving, Type A extrovert willing to take on political enemies…A well-calibrated assessment of Donovan and the impact of the OSS on the war…The book is replete with fascinating anecdotes ...and tales of derring-do."" -- the Associated Press



In Wild Bill Donovan, Douglas Waller brings the larger than life William J. Donovan – a World War I Medal of Honor winner, Office of Strategic Services founder, CIA architect, and one of the 20th century's most compelling figures – to life. Waller's impressive skill as a journalist, his expertise about the U.S. intelligence community, and a remarkable writing ability complement one another in this fascinating and insightful portrait of Donovan the man, not the myth, and enhances our appreciation of his remarkable legacy. General Donovan attributed much of the success of the Office of Strategic Services to "good old fashioned intellectual sweat." This informative, enjoyable, and important book deserves the same compliment.
--Charles Pinck, President, The OSS Society, Inc.



"An extraordinary portrait of an extraordinary figure in 20th century American history, a man beyond the power of fiction to invent. Wild Bill Donovan is brilliantly researched and beautifully told, as evocative and enlightening as it is entertaining."
--Rick Atkinson, author of An Army at Dawn and The Day of Battle



"Douglas Waller gives us the definitive portrait of the fascinating, creative, disorganized, brave man who—starting from nothing during our biggest war—created our modern capacity for human intelligence and covert operations. A must for all who would understand American intelligence."
--R. James Woolsey, Chair, Woolsey Partners, LLC and Director of Central Intelligence, 1993-1995



"In a time when espionage consists largely of technicians in windowless rooms, far from the battlefield, collecting signals and pictures from satellites and drones, it is both refreshing and fascinating to read Doug Waller's story of the man behind World War II's spy organization, the OSS. Long before there was a CIA, there was Major General "Wild Bill" Donovan, and Waller's extensively researched and highly entertaining book takes the reader back to the days when spying meant sending dedicated agents behind enemy lines to risk their lives to steal secrets and help win the war."
--James Bamford, bestselling author of Body of Secrets and The Shadow Factory
or
Not Currently Available for Direct Purchase