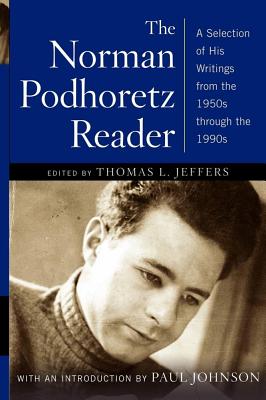 The Norman Podhoretz Reader (Paperback)
A Selection of His Writings from the 1950s Through the 1990s
Free Press, 9781416568308, 496pp.
Publication Date: June 27, 2007
* Individual store prices may vary.
Description
Norman Podhoretz is a thinker and writer and polemicist, a geopolitician and student of religious ideas, an autobiographer of genius, a man who reacts sharply to the news as it pours from the press and the airwaves, who thinks deeply, angrily, and sincerely about it, and commits his thoughts into vivid and penetrative argument. So writes the eminent British historian Paul Johnson in his introduction to this indispensable collection of Norman Podhoretz's essays of the past fifty years. Organized by decade, these essays, fascinating in themselves, also add up to a running history of American literature and intellectual life in the second half of the twentieth century. From Vladimir Nabokov to Saul Bellow, from Ralph Ellison to Norman Mailer, from Hannah Arendt to Henry Kissinger, Podhoretz has dealt with the most important novelists and thinkers of the period. He has also turned his attention to such major European figures as Aleksandr Solzhenitsyn, George Orwell, and Isaiah Berlin, and his trenchant appraisals of both Americans and Europeans are as fresh and lively today as when they first appeared. Many of them have been unavailable for years, and will prove revelatory for first-time readers and longtime admirers alike. The New York intellectuals, of whom Podhoretz is the archetype, loved to read and discuss literature, but they never stopped arguing about politics. Intertwined with the literary essays, The Norman Podhoretz Reader offers some of the best and most influential political essays written by anyone in our time. Through such classics as My Negro Problem -- and Ours, his famous reassessments in Why We Were in Vietnam, and his retrospective look at neoconservatism (of which he was one of the founding fathers), Podhoretz has led and changed opinion throughout his career. In addition to all this, The Norman Podhoretz Reader includes self-contained excerpts from the books Making It, Breaking Ranks, and Ex-Friends that demonstrate why Johnson calls Podhoretz an auto- biographer of genius. Taken together, these readings provide a rich sample of the work of one of America's great contemporary men of letters -- an extraordinary writer who is equally comfortable discussing the Marquis de Sade and the Middle East, American foreign policy and theological disputes, and who brings the same vigor, intelligence, and literary grace to this amazingly broad range of subjects and issues.
About the Author
Norman Podhoretz, the author of nine books on subjects ranging from contemporary literature to foreign policy, was editor-in-chief of Commentary for thirty-five years and is now the magazine's editor-at-large and a senior fellow at the Hudson Institute. A graduate of Columbia and Cambridge universities, he has been awarded a Pulitzer Scholarship, a Fulbright Fellowship, and five honorary doctorates. He lives in New York City with his wife, the writer Midge Decter.