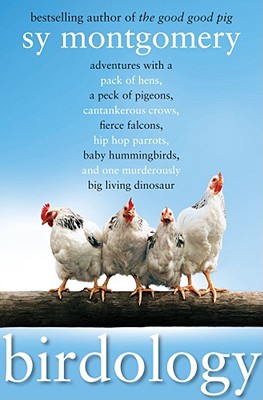 Birdology
Adventures with a Pack of Hens, a Peck of Pigeons, Cantankerous Crows, Fierce Falcons, Hip Hop Parrots, Baby Hummingbirds, and One Murderously Big Living Dinosaur (t)
Hardcover

* Individual store prices may vary.
Other Editions of This Title:
Paperback (2/22/2011)
Hardcover, Large Print (10/1/2010)
Description
Meet the ladies: a flock of smart, affectionate, highly individualistic chickens who visit their favorite neighbors, devise different ways to hide from foxes, and mob the author like she's a rock star. In these pages you'll also meet Maya and Zuni, two orphaned baby hummingbirds who hatched from eggs the size of navy beans, and who are little more than air bubbles fringed with feathers. Their lives hang precariously in the balance—but with human help, they may one day conquer the sky.

Snowball is a cockatoo whose dance video went viral on YouTube and who's now teaching schoolchildren how to dance. You'll meet Harris's hawks named Fire and Smoke. And you'll come to know and love a host of other avian characters who will change your mind forever about who birds really are.

Each of these birds shows a different and utterly surprising aspect of what makes a bird a bird—and these are the lessons of Birdology: that birds are far stranger, more wondrous, and at the same time more like us than we might have dared to imagine. In Birdology, beloved author of The Good Good Pig Sy Montgomery explores the essence of the otherworldly creatures we see every day. By way of her adventures with seven birds—wild, tame, exotic, and common—she weaves new scientific insights and narrative to reveal seven kernels of bird wisdom.

The first lesson of Birdology is that, no matter how common they are, Birds Are Individuals, as each of Montgomery's distinctive Ladies clearly shows. In the leech-infested rain forest of Queensland, you'll come face to face with a cassowary—a 150-pound, man-tall, flightless bird with a helmet of bone on its head and a slashing razor-like toenail with which it (occasionally) eviscerates people—proof that Birds Are Dinosaurs. You'll learn from hawks that Birds Are Fierce; from pigeons, how Birds Find Their Way Home; from parrots, what it means that Birds Can Talk; and from 50,000 crows who moved into a small city's downtown, that Birds Are Everywhere. They are the winged aliens who surround us.


Birdology explains just how very "other" birds are: Their hearts look like those of crocodiles. They are covered with modified scales, which are called feathers. Their bones are hollow. Their bodies are permeated with extensive air sacs. They have no hands. They give birth to eggs. Yet despite birds' and humans' disparate evolutionary paths, we share emotional and intellectual abilities that allow us to communicate and even form deep bonds. When we begin to comprehend who birds really are, we deepen our capacity to approach, understand, and love these otherworldly creatures. And this, ultimately, is the priceless lesson of Birdology: it communicates a heartfelt fascination and awe for birds and restores our connection to these complex, mysterious fellow creatures.
Praise For Birdology: Adventures with a Pack of Hens, a Peck of Pigeons, Cantankerous Crows, Fierce Falcons, Hip Hop Parrots, Baby Hummingbirds, and One Murderously Big Living Dinosaur (t)…
"Sy Montgomery does for birds what Jane Goodall did for apes. With an infectious sense of adventure, and a sense of awe and mystery, her stories change the way we look at even the most 'common' birds and instill in us a deep sense of gratitude that we are privileged to share this planet with such delightful creatures. Birdology is bound to become a classic." -- Stacey O'Brien, author of Wesley the Owl

"Spell-binding, absolutely compelling, and so beautifully expressed, Birdology tells stories that everyone should know. Nobody has ever gone so far into the minds of birds as Montgomery has. She completely conveys the life, the obsession, the fascination with birds in an intimate, personal, and engaging style. A magnificent achievement." -- Jeffrey Moussaieff Masson, author of When Elephants Weep and Dogs Never Lie about Love

"Sy Montgomery may be the best interpreter of animals of all time. With impeccable science and profound respect, Birdology describes the miracle of these apparently familiar beings. We take them for granted and that is our mistake. In fact, they are dinosaurs, still living on earth after two hundred and thirty five million years, with minds and abilities that often far surpass our own. One seldom finds a real page-turner as a source of important information, yet Birdology is all of that and more." -- Elizabeth Marshall Thomas, author of The Hidden Life of Dogs and The Social Life of Dogs

"From the first greeting of her charming hens to her celebration of crows in all their smarts and wit, Sy Montgomery has me hooked. One cannot read this book without imagining birds as special people, with emotions and personalities and sometimes an intellect not all that different from our own." -- Dr. Don Kroodsma, author of The Singing Life of Birds

"Sy Montgomery has once again taken animal writing to another level of consciousness, compassion and understanding. Birdology is a brilliant, strikingly original, and beautifully written look into the fragile, rich story of birds, whose lives as more varied, endangered, individualistic, and powerful than dogs and cats. I've never read anything like this about birds. These stories will haunt and enrich you, and they remind us how important birds are to our history and ecosystem. And how much they need our attention." -- Jon Katz, author of A Dog Year and Katz on Dogs

"Sy Montgomery has the mind of a scientist and the fierceness of a raptor as she dives beneath the skin and deep into the bones of the avian world in Birdology. Brimming with insights about hidden bird abilities and the secrets of their behavior, the book is at its heart about the emotional bond between birds and people. Whether describing the gentle art of keeping hens or the bloodcurdling perils of falconry, Sy's writing dazzles like hummingbird feathers drenched in blazing sunshine." -- Bob Tarte, author of Enslaved by Ducks and Fowl Weather

"One of America's pre-eminent writers on animals, the immensely talented Sy Montgomery leads us on a compelling journey of exploration into the very depths of what makes a bird a bird. With wit, compassion, and a cornucopia of fascinating facts, she delves into the lives and sensibilities of seven types of birds, tracing our relationship to them throughout evolution and human history. From hawks to hummingbirds and crows to cassowaries, Sy highlights bird language, individuality, homing and hunting abilities, and relationship to dinosaurs in a manner that not only reveals her deep love for birds, but also her inner quest to understand all living things. With this book, birders, animal-lovers, or anyone with a with a mild curiosity about birds, will gain a new-found respect and appreciation for the essence of these avian marvels." -- Don and Lillian Stokes, authors of Stokes Field Guide to Birds

"There could be no better guide to the wonder of birds than Sy Montgomery. Her empathy with wild things is as real as it is rare; yet she seems to like the people who study, care for, and work with birds just as much. This is a book about intense connections between people and birds. Montgomery unlocks some of the secret of how and what birds may be thinking. Read it, and you will never look at a parrot, chicken, hawk or pigeon in quite the same way again." -- Julie Zickefoose, NPR commentator; author of Letters from Eden

"Montgomery weaves a delightful, insightful story of the unusual lives of familiar birds to show us that they are personable, fun, annoying, lovable, and awesome and do indeed, strike into our very souls. Her tales are an astonishing, wide-ranging blend of science, art, humor, understanding, and love, and a must read for all animal lovers. Montgomery captures not only the incredible and astonishing variety of bird behavior and intelligence, but the essence of the very soul of birds." -- Joanna Burger, Distinguished Professor of Biology, and author of The Parrot Who Owns Me

"This is my favorite kind of book: charming, witty, and wise, idiosyncratic and inspiring. And Birdology is Sy Montgomery at her very best. Not a catalog, list, or inventory, Birdology is more like a novel, a confession, or an engaging memoir of life lived with soul and wings. I love this book." -- Dale Peterson, author of Jane Goodall: The Woman Who Redefined Man and Elephant Reflections
Atria Books, 9781416569848, 272pp.
Publication Date: April 6, 2010
About the Author
Sy Montgomery is a naturalist, documentary scriptwriter, and author of twenty acclaimed books of nonfiction for adults and children, including the National Book Award finalist The Soul of an Octopus and the memoir The Good Good Pig, a New York Times bestseller. The recipient of numerous honors, including lifetime achievement awards from the Humane Society and the New England Booksellers Association, she lives in New Hampshire with her husband, border collie, and flock of chickens.
or
Not Currently Available for Direct Purchase