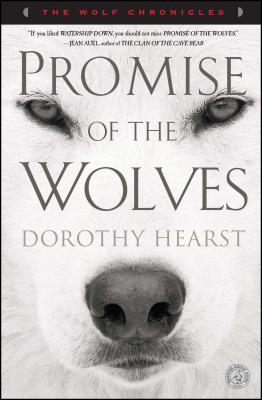 Promise of the Wolves
A Novel
Paperback

* Individual store prices may vary.
Other Editions of This Title:
Digital Audiobook (6/2/2008)
Digital Audiobook (6/2/2008)
Description
The first in The Wolf Chronicles trilogy, brilliantly weaving together original research, lovable characters and a dynamic, thoroughly engaging plot, Promise of the Wolves is a historical adventure story in the tradition of Clan of the Cave Bear and Watership Down.

Set 14,000 years ago in what is now Southern Europe, Promise of the Wolves is told from the point of view of Kaala, a young wolf born of a forbidden, mixed-blood litter. An outcast after her mother is exiled, Kaala struggles to earn her place in her pack. But her world is turned upside down when she rescues a human girl from drowning. Kaala and her young packmates begin hunting and playing with humans—risking expulsion from their pack and banishment from their home in the Wide Valley.

When war between humans and wolves threatens, Kaala learns that she is the last in a long line of wolves charged with keeping watch over humans in order to prevent them from losing touch with nature and thus destroying the world. But to do so she must solve the great paradox of wolfkind: though wolves must always be with humans, humans cannot abide the presence of wolves, and every time the two come together, war ensues. Kaala must choose between safety for herself, her friends, and their human companions and the survival of her pack—and perhaps all of wolf and humankind.
Praise For Promise of the Wolves: A Novel…
"The story of Kaala and her pack takes readers on a journey into a rich and fascinating world. A remarkable look into the mind of another kind of being." -- Temple Grandin, author of Animals in Translation and Animals Make Us Human

"A vivid, enchanting tale of friendship, trust and adventure, good Tolkien-esque ingredients." -- Kirkus Reviews

"A crackling foray into a dangerous past...remarkable fluency...immediately absorbing...the relationships between the human characters and the wolf characters are keenly felt, and the conflicts sharply imagined." -- Publishers Weekly

"If you liked WATERSHIP DOWN, you should not miss Promise of the Wolves." -- JEAN AUEL, author of THE CLAN OF THE CAVE BEAR
Simon & Schuster, 9781416569992, 368pp.
Publication Date: July 7, 2009
About the Author
Dorothy Hearst is the author of the Wolf Chronicles trilogy. She loves writing about canine characters, birds, and other creatures who can give us the chance to see ourselves in new ways. She is an acquiring editor, a martial artist, a self-defense instructor-in-training, an avid hiker and reader, and a dog lover. She is not entirely domesticated, but is very food motivated.