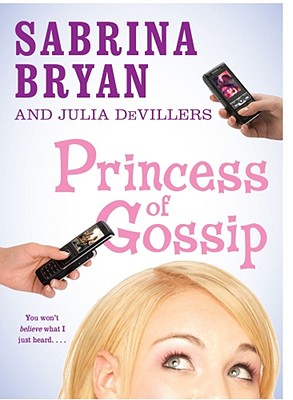 Princess of Gossip (Paperback)
MTV Books, 9781416570653, 384pp.
Publication Date: October 7, 2008
* Individual store prices may vary.
Description

Who knows better than Sabrina Bryan of The Cheetah Girls what it's really like to be famous? In this addictive new novel, Sabrina teams up with popular author Julia DeVillers to tell the story of an ordinary girl with an extraordinary secret....

Life in southern California is not at all like Avery expected. She feels invisible at her new high school, her parents are always working, and her only friends are on MySpace. If only her life was like the celebrities she reads about online....

When she's mistaken on MySpace for a rising pop star's assistant, Avery scores an invite to a glamorous Hollywood party and snaps a photo of a young starlet with her secret new beau. Eager to share her juicy scoop, Avery starts a blog, the Princess of Gossip, and the next thing she knows, she's the new gossip girl to watch. Suddenly she's getting the inside scoop on celebrity sightings, and designers are sending her their hottest clothes and accessories in the hopes of scoring a mention on her blog. When Avery shows up at school in her exclusive fashion swag, even Cecilia, the most popular girl in their class, takes notice.

Then celebutante playboy Beckett Howard sees Avery wearing one of his father's designs and asks her out. The Princess of Gossip's true identity is still a secret, but when the paparazzi catch Avery and Beckett on a date, Cecilia gets jealous. There's only room for one it girl at school. Can the Princess of Gossip hold onto her crown?
About the Author
Sabrina Bryan is a member of the multiplatinum recording group The Cheetah Girls. She has portrayed the character "Dorinda" in the multimovie Cheetah Girls franchise on the Disney Channel. In addition, Sabrina starred in the fifth season of Dancing With the Stars and was the earliest winner of a perfect 30 in series history thus far. She also coproduced and starred in BYOU, a fitness/dance video for girls

Julia DeVillers is the author of How My Private, Personal Journal Became a Bestseller, which was adapted as a Disney Channel Original Movie. She is also the author of the Liberty Porter, First Daughter series and the coauthor of the Trading Faces series, written with her twin sister, Jennifer Roy.
or
Not Currently Available for Direct Purchase