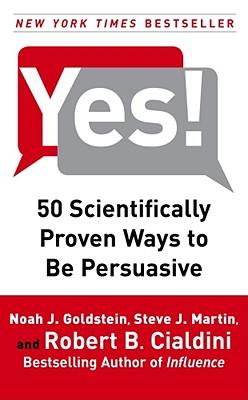 Yes!
50 Scientifically Proven Ways to Be Persuasive
Hardcover

* Individual store prices may vary.
Other Editions of This Title:
Digital Audiobook (2/16/2009)
Paperback (12/29/2009)
CD-Audio (2/17/2009)
Description
Small changes can make a big difference in your powers of persuasion

What one word can you start using today to increase your persuasiveness by more than fifty percent?

Which item of stationery can dramatically increase people's responses to your requests?

How can you win over your rivals by inconveniencing them?

Why does knowing that so many dentists are named Dennis improve your persuasive prowess?

Every day we face the challenge of persuading others to do what we want. But what makes people say yes to our requests? Persuasion is not only an art, it is also a science, and researchers who study it have uncovered a series of hidden rules for moving people in your direction. Based on more than sixty years of research into the psychology of persuasion, Yes! reveals fifty simple but remarkably effective strategies that will make you much more persuasive at work and in your personal life, too.

Cowritten by the world's most quoted expert on influence, Professor Robert Cialdini, Yes! presents dozens of surprising discoveries from the science of persuasion in short, enjoyable, and insightful chapters that you can apply immediately to become a more effective persuader. Why did a sign pointing out the problem of vandalism in the Petrified Forest National Park actually increase the theft of pieces of petrified wood? Why did sales of jam multiply tenfold when consumers were offered many fewer flavors? Why did people prefer a Mercedes immediately after giving reasons why they prefer a BMW? What simple message on cards left in hotel rooms greatly increased the number of people who behaved in environmentally friendly ways?

Often counterintuitive, the findings presented in Yes! will steer you away from common pitfalls while empowering you with little known but proven wisdom.

Whether you are in advertising, marketing, management, on sales, or just curious about how to be more influential in everyday life, Yes! shows how making small, scientifically proven changes to your approach can have a dramatic effect on your persuasive powers.
Praise For Yes!: 50 Scientifically Proven Ways to Be Persuasive…
"This easy-to-read summary of the social-psychological research on persuasion really does tell people how to get to 'yes.' Since we are all selling something, including ourselves, all the time, everyone can, and will be, reading this amazing book." -- Jeffrey Pfeffer, professor, Stanford Graduate School of Business, and author of What Were They Thinking? Unconventional Wisdom About Management

"Yes! is the single best introduction to and distillation of research and wisdom on how to change people's minds, including your own." -- Warren Bennis, Distinguished Professor of Business, University of Southern California, author of On Becoming a Leader and coauthor of Judgment: How Winning Leaders Make Great Calls

"Yes! is the Freakonomics of social psychology. This book changed my way of looking at the world. This thinking is the real deal. Don't miss out!" -- Daniel Finkelstein, Comment Editor, The Times (London)

"If you had a team of bright guys looking for research that you can actually use to improve your effectiveness, and they wrote it up for you with wit and style, putting it in nifty little reports of three to five pages, would that be useful? YES! This book is the trifecta: first-rate research, lively writing, and practical advice. Read it, enjoy it, use it." -- Dale Dauten, nationally syndicated King Features columnist and author of The Gifted Boss

"Meld[s] social psychology, pop culture and field research to demonstrate how the subtle addition, subtraction or substitution of a word, phrase, symbol or gesture can significantly influence consumer behavior....illustrate[s] the simple and surprising approaches that can hone a company's marketing strategies." -- Publishers Weekly>
Free Press, 9781416570967, 272pp.
Publication Date: June 10, 2008
About the Author
Noah Goldstein is a protege of Cialdini's. He is an assistant professor at the University of Chicago Graduate School of Business. He earned a Ph.D. in psychology under Robert Cialdini at Arizona State University in 2007, and he has published research with Cialdini in the Journal of Personality and Social Psychology.

Steve Martin is the UK-based co-director of Influence at Work. Prior to joining with Robert Cialdini's consulting group, he held a number of positions in sales, marketing, and management at several blue-chip companies.

Robert Cialdini is recognized worldwide for his inspired field research on the psychology of influence. He is a New York Times bestselling author. His books, including Influence, have sold more than three million copies in thirty-three languages. Dr. Cialdini is Regents' Professor Emeritus of Psychology and Marketing at Arizona State University and the president and CEO of Influence at Work, an international company that provides keynotes and influence training on how to use the lessons in Dr. Cialdini's books ethically and effectively.
or
Not Currently Available for Direct Purchase