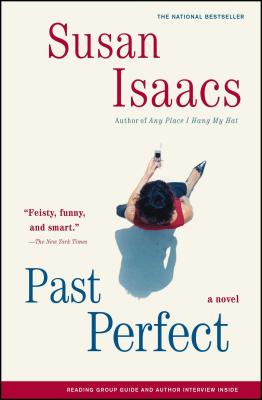 Past Perfect (Paperback)
Scribner Book Company, 9781416572084, 340pp.
Publication Date: June 10, 2008
Description
From bestselling author Susan Isaacs comes her "feisty, funny, and smart" (New York Times) novel about a successful TV writer who once worked for the CIA. Katie seems to have the perfect life--a great husband, a precocious and winning ten-year-old son; and a glamorous job as writer for the long-running TV series, Spy Guys, based on her own surprisingly successful novel. But for Katie, writing about the spy business isn't as satisfying as working in it. Fifteen years ago, she was working at CIA headquarters. She loved her job, and especially her boss. Then, suddenly, for no apparent reason, she was fired. Katie comes from a family of Manhattan achievers, so it's been tough to accept such humiliation. She'd give almost anything to know what falsehoods lay in her personnel file. A surprise call from former colleague Lisa gives Katie hope. Lisa says she urgently needs Katie's help on a matter of national importance and promises to reveal all if Katie will work with her. Then Lisa disappears. One person is dead, then another. Who will be next? With some help from a couple of colorful ex-spies, Katie embarks on a scary mission, leading her back to the extraordinary and eerie days as the Berlin Wall was about to crumble. Flawlessly crafted, witty and suspenseful, Past Perfect is classic Susan Isaacs in top form.
Praise For Past Perfect…
"Susan Isaacs has an incredibly good ear for dialogue and a very sharp eye for the silly and stupid things people really do. Picture yourself laughing out loud while sitting on the edge of your seat and furiously flipping pages. The clever plot, the quick pace, and the pitch-perfect writing are good clues that Past Perfect was written by a master storyteller."
-- Nelson DeMille, author of Wild Fire



"There has to be a name for the literary form Susan Isaacs has invented: the funny scary book. The woman who made us laugh as well as shiver in fear over a murder investigation in Compromising Positions has done the same thing for the CIA and international espionage. Past Perfect made me laugh, but it also kept me jumping out of bed every time a floorboard creaked in my old house."
-- Sara Paretsky, author of Fire Sale



"I love Susan Isaacs! Her books come straight from the heart, and her characters are smart, funny, and feisty enough to be your best girlfriend -- not only for three hundred pages, but for life. Past Perfect introduces Katie Schottland -- a terrific galpal who packs her kid off to summer camp and sleuths as a CIA analyst with equal style. Put simply, Past Perfect is perfect!"
-- Lisa Scottoline, author of Dirty Blonde
Advertisement