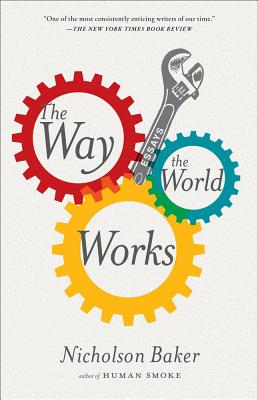 The Way the World Works (Hardcover)
Essays
Simon & Schuster, 9781416572473, 336pp.
Publication Date: August 7, 2012
Other Editions of This Title:
Paperback (8/20/2013)
* Individual store prices may vary.
Description
New York Times bestselling author Nicholson Baker, "who writes like no one else in America" (Newsweek), has assembled his best nonfiction writing over the last fifteen years, a trove of original and provocative pieces.

Nicholson Baker, who "writes like no one else in America" (Newsweek), here assembles his best short pieces from the last fifteen years.

The Way the World Works, Baker's second nonfiction collection, ranges over the map of life to examine what troubles us, what eases our pain, and what brings us joy. Baker moves from political controversy to the intimacy of his own life, from forgotten heroes of pacifism to airplane wings, telephones, paper mills, David Remnick, Joseph Pulitzer, the OED, and the manufacture of the Venetian gondola. He writes about kite string and about the moment he met his wife, and he surveys our fascination with video games while attempting to beat his teenage son at Modern Warfare 2. In a celebrated essay on Wikipedia, Baker describes his efforts to stem the tide of encyclopedic deletionism; in another, he charts the rise of e-readers; in a third he chronicles his Freedom of Information lawsuit against the San Francisco Public Library.

Through all these pieces, many written for The New Yorker, Harper's, and The American Scholar, Baker shines the light of an inexpugnable curiosity. The Way the World Works is a keen-minded, generous-spirited compendium by a modern American master.
About the Author
Nicholson Baker is the author of nine novels and four works of nonfiction, including Double Fold, which won a National Book Critics Circle Award, and House of Holes, a New York Times Notable Book of the Year. His work has appeared in The New Yorker, Harper's, and The New York Review of Books. He lives in Maine with his family.
Praise For The Way the World Works: Essays…
"Baker is one of the most beautiful, original and ingenious prose stylists to have come along in decades . . . and takes a kind of mad scientist's delight in the way things work and how the world is put together."
— Charles McGrath

"His prose is so luminescent and so precise it manually recalibrates our brains."
— Lev Grossman

"Nicholson Baker is such a swell, smart writer that he rarely—maybe never—tips his hand. . . . In Baker's view, the mundane, closely enough observed, may be the skate key to the sublime."
— Carolyn See

"Baker writes with appealing charm. He clowns and shows off rambles and pounces hard; he says acute things, extravagant things, terribly funny things."
— Richard Eder

"[A] winning new book. . . . This singular writer . . . can mount an argument skillfully and deliver an efficient conclusive kick."
— The San Francisco Chronicle

"A fundamentally radical author . . . you can never be sure quite where Baker is going to take you. . . . [He] is an essayist in the tradition of GK Chesterton and Max Beerbohm, writing winning fantasies upon whatever chance thoughts may come into his head."
— Financial Times (London)

"Baker looks at the world around us in a way that is not only artful and entertaining but instructive."
— Charleston Post & Courier

"Mr. Baker is a wise and amiable cultural commentator worth listening to. . . . [his] prose is polished, witty . . . his essays are always provocative and entertaining."
— Cynthis Crossen

"Baker's new essay collection, The Way the World Works, is always absorbing, merging his interest in solid, tangible objects with his devotion to the life of the mind. . . . simply dazzling."
— Seattle Times

"Exhilarating . . . Eye-opening . . . Baker continues his project of bringing new dimensions and idiosyncrasies to the personal essay, which he is devoted to reviving and reinventing."
— The Boston Globe

"If only more of the literary world worked the way Baker does. . . . You cannot deny the courage of the writer. . . . Baker is singular."
— The Buffalo News
or
Not Currently Available for Direct Purchase