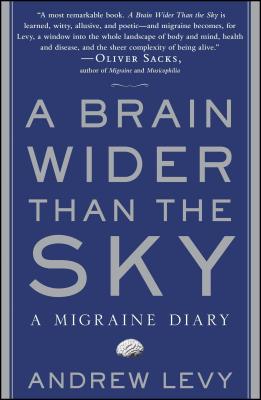 A Brain Wider Than the Sky
A Migraine Diary
Paperback

* Individual store prices may vary.
Description
With more than one in ten Americans—and more than one in five families—affected, the phenomenon of migraine is widely prevalent yet often ignored or misdiagnosed. For Andrew Levy, his migraines were occasional reminders of a persistent illness that he'd wrestled with half his life. Then in 2006 Levy was struck almost daily by a series of debilitating migraines that kept him essentially bedridden for months, imprisoned by pain and nausea that retreated only briefly in gentler afternoon light. When possible, he kept careful track of what triggered an onset and in luminous prose recounts his struggle to live with migraines, his meticulous attempts at calibrating his lifestyle to combat and avoid them, and most tellingly, the personal relationship a migraineur develops—an almost Stockholm syndrome–like attachment—with the indescribable pain, delirium, and hallucinations. Levy researched how personalities and artists throughout history—Alexander Pope, Freud, Virginia Woolf, even Elvis—dealt with their migraines and candidly describes his rehabilitation with the aid of prescription drugs and his eventual reemergence into the world, back to work and writing.

An enthralling blend of memoir and provocative analysis, A Brain Wider Than the Sky offers rich insights into an illness whose effects are too often discounted and whose sufferers are too often overlooked
Praise For A Brain Wider Than the Sky: A Migraine Diary…
"A most remarkable book. A Brain Wider Than the Sky is learned, witty, allusive, and poetic -- and migraine becomes, for Levy, a window into the whole landscape of body and mind, health and disease, and the sheer complexity of being alive." -- Oliver Sacks, author of Migraine and Musicophilia



"This is a wonderful hybrid of a book about that most metaphysical of pains, the migraine headache. Part memoir, part historical inquiry, part philosophical meditation, A Brain Wider Than the Sky takes its reader on a physical and psychological journey and shows us that beauty and tranquility can be found in the least likely of places." -- Ann Packer, author of Songs With out Words and The Dive from Clausen's Pier
Simon & Schuster, 9781416572510, 304pp.
Publication Date: May 11, 2010
About the Author
Andrew Levy is Edna Cooper Chair in English at Butler University. He is author of the critically acclaimed Brain Wider Than the Sky, and the award-winning biography The First Emancipator.