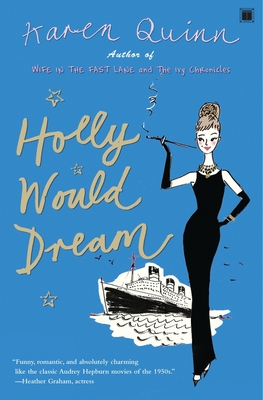 Holly Would Dream (Paperback)
Atria Books, 9781416573128, 448pp.
Publication Date: June 3, 2008
Other Editions of This Title:
Compact Disc (10/1/2019)
MP3 CD (7/26/2016)
* Individual store prices may vary.
Description
Holly Ross often wishes she lived in a simpler time, when the clothes were glamorous, the men debonair, and the endings happy. That said, her career as a fashion historian isn't so bad. With both a wedding and a big promotion coming up, her own happily ever after seems assured.

So how, in the space of one day, does it all go wrong? How does she end up homeless, jobless, penniless, and fiancé-less? Why is she cruising the Mediterranean in hot pursuit of real estate tycoon Denis King? And why, for heaven's sake, is she chasing down a suitcase full of stolen Audrey Hepburn gowns?

With the sparkling Mediterranean and the eternal city of Rome as the backdrops, Holly's adventures begin to resemble one of the 1950s Hollywood gems she so adores. Finally she must choose between her long-held fairy tale fantasy and a new, real-life dream with an ending she couldn't possibly imagine.
About the Author
Karen Quinn has tutored scores of children and taught hundreds of parents how to work with their own kids to prepare them for the rigorous kindergarten admissions tests for Manhattan's most in-demand programs. She has been a featured expert on school admissions on ABC's 20/20 and The View and in The New York Times, Forbes, Redbook, Woman's Day, and more. Karen is also the author of three novels: Holly Would Dream, The Ivy Chronicles and Wife in the Fast Lane. She lives in Miami, FL with her husband and two children. Visit her at www.karenquinn.net.
Praise For Holly Would Dream…
"Delightfully witty and utterly charming, Holly Would Dream will tickle Audrey Hepburn fans more than a Breakfast at Tiffany's and Roman Holiday double feature. Cross my heart and kiss my elbow, I'm just crazy about Holly!" -- Jennifer Coburn, author of The Wife of Reilly

"At last, a beach book with not just a brain and a funny bone but even more critically, a wicked sense that fashion and film and fashion in film are not a matter of life and death. They're more important than that." -- Rachel Johnson, author of Notting Hell

"Clever and charming, Holly Would Dream is the perfect mix of madcap fun and making dreams come true." -- Linda Francis Lee, author of The Ex-Debutante and Ladies Who Lunch

"A delightfully frothy comedy that tweaks high society and Hollywood endings. A fun page-turner of a read that rewards the sharp-eyed film lover with many Hepburn references throughout." -- Jennifer Vandever, author of The Brontë Project

"Funny, romantic, and absolutely charming like the classic Audrey Hepburn movies of the 1950s." -- Heather Graham, actress