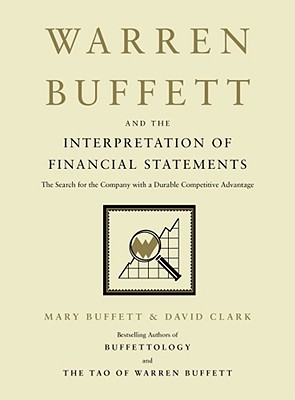 Warren Buffett and the Interpretation of Financial Statements
The Search for the Company with a Durable Competitive Advantage
Hardcover

* Individual store prices may vary.
Other Editions of This Title:
Digital Audiobook (12/7/2008)
MP3 CD (11/1/2008)
Compact Disc (11/1/2008)
Compact Disc (12/8/2008)
MP3 CD (12/8/2008)
Compact Disc (12/8/2008)
Compact Disc (11/1/2008)
Description
With an insider's view of the mind of the master, Mary Buffett and David Clark have written a simple, easy-to-follow guide for reading financial statements from Warren Buffett's successful perspective.

Buffett and Clark clearly outline Warren Buffett's strategies in a way that will appeal to newcomers and seasoned Buffettologists alike. Inspired by the seminal work of Buffett's mentor, Benjamin Graham (The Interpretation of Financial Statements, 1937), this book presents Buffett's interpretation of financial statements with anecdotes and quotes from the master investor himself.

Potential investors will discover:

-Buffett's time-tested dos and don'ts for interpreting an income statement and balance sheet

-Why high research and development costs can kill a great business

-How much debt Buffett thinks a company can carry before it becomes too dangerous to touch

-The financial ratios and calculations that Buffett uses to identify the company with a durable competitive advantage—which he believes makes for the winning long-term investment

-How Buffett uses financial statements to value a company

-What kinds of companies Warren stays away from no matter how cheap their selling price

Once readers complete and master Buffett's simple financial calculations and methods for interpreting a company's financial statement, they'll be well on their way to identifying which companies are going to be tomorrow's winners—and which will be the losers they should avoid at all costs.

Destined to become a classic in the world of investment books, Warren Buffett and the Interpretation of Financial Statements is the perfect companion volume to The New Buffettology and The Tao of Warren Buffett.
Praise For Warren Buffett and the Interpretation of Financial Statements: The Search for the Company with a Durable Competitive Advantage…
"Just as top musicians memorize scales, and the best golfers perfect swings at the driving range, investors who want sustainable, good returns must master the critical basics that Mary Buffett and David Clark lay out for us in this clear explanation of Warren Buffett's methods. I don't think there has been a better time for investors to relearn the fundamentals. Follow these methods and you will see results!" - Timothy P. Vick, senior portfolio manager, The Sanibel Captiva Trust Company, and author of How to Pick Stocks Like Warren Buffett
Scribner, 9781416573180, 224pp.
Publication Date: October 14, 2008
About the Author
Mary Buffett is the coauthor of Scribner's bestselling Buffettology series, a sought-after business speaker world-wide, and a contributor to HuffPost and the online magazine Thrive Global. Mary and Sean Seah recently launched the Buffett Online School (BuffettOnlineSchool.com), a monthly webinar sharing investment insights and helping students learn to build successful stock portfolios.

For over twenty years, David Clark has been considered the world's leading authority on the subject of Warren Buffett's investment methods. His international bestselling investment books, coauthored with Mary Buffett—Buffettology, The Buffettology Workbook, The New Buffettology, The Tao of Warren Buffett, Warren Buffett and the Interpretation of Financial Statements,The Management Secrets of Warren Buffett, Warren Buffett and The Art of Stock Arbitrage, and The Warren Buffett Stock Portfolio—have been translated into more than twenty foreign languages and are considered "investment classics" the world over. He has once again joined forces with Mary Buffett, and together they are writing Warren Buffett Investment Analysis, an in-depth investment manual for professional and aspiring investors.